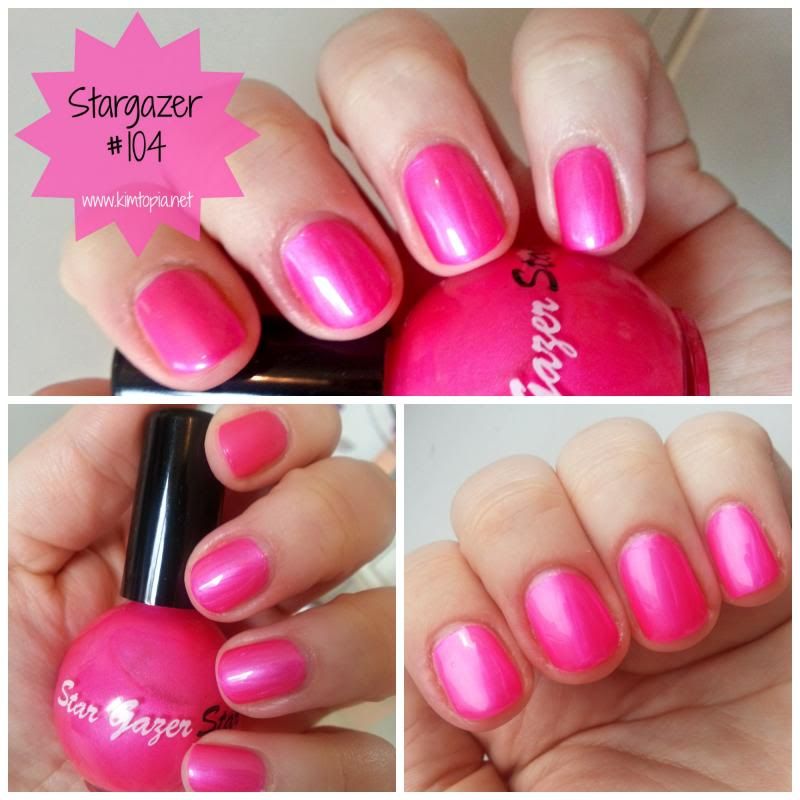 I am loving really bright shades for nails at the moment so when a Stargazer package* landed on my desk I was immediately drawn to this beautiful, hot pink. Unfortunately the photos do not do this polish any justice. It's super bright with a subtle shimmer and reminds me of my pink Sharpie highlighter.
I've not tried Stargazer before, despite it previously being available in some New Look stores. The brand were exhibiting at
IMATS London
this year but unfortunately I didn't get chance to take a look, but I wish I had after trying this. The photos above show one coat of #104 sealed with a top coat. I was so surprised at how opaque the colour was after one application. Colour me impressed! This lasted 5 days on my nails before chipping and it was super easy to remove with the Bourjois Magic Remover.
The one thing that I dislike when it comes to polishes is no shade names and unfortunately Stargazer number their polishes rather than name them although they do have different categories. The shade above is #104 from their
Underground Punk
collection which is quite extensive and there are several shades that have taken my fancy. At £2.50 for 14ml my new obsession won't break the bank either!
♥ ♥ ♥
Have you tried anything from Stargazer? Send your recommendations my way :)