It's no secret that I've become a hair care nut over the past few months and I find washing and treating my hair more of a pleasure than a chore. I thought it was high time I showed you some of the products that I'm absolutely loving at the moment and can't believe I haven't blogged about them before!
♥ Dove ♥
♥ Dove Hair Therapy Nourishing Oil Care Shampoo
Having tried, loved and repurchased the Conditioner numerous times, I was happy to try out the shampoo. It gives such a surprisingly luxurious lather, smells beautiful, cleanses well and nourishes my hair a treat!


♥ Dove Hair Therapy Nourishing Oil Care Conditioner
I've raved about this before after getting a freebie sample in a magazine, but I can't tell you how much I love this. Again it smells fab and I think this is quite possibly the best conditioner you'll find on the high street. My hair has never felt so smooth, soft and sleek. In fact, my hairdresser commented on the lovely condition of my hair! A real favourite that I've repurchased time and time again.


♥ Dove Damage Therapy Heat Defence Heat Activated Protect Mist
Long days and early starts have pretty much meant that I don't use heated appliances on my hair much these days but when I have, I always give my hair a spritz with this heat defence mist. A lovely product that protects and fragrances without being sticky, leaving a residue or making my hair look greasy.


♥ Dove Hair Therapy Nourishing Oil Care Express Treatment Conditioner
Another product that has been a staple in my bathroom over the past few months is this lovely express treatment conditioner. On the days that I have a few extra minutes to spare on my hair, I love to treat it to 3 minutes of TLC. My hair is left impossibly smooth, beautifully fragrances, silky and so, so soft I can't stop touching it.
♥ VO5 & Alberto Balsam ♥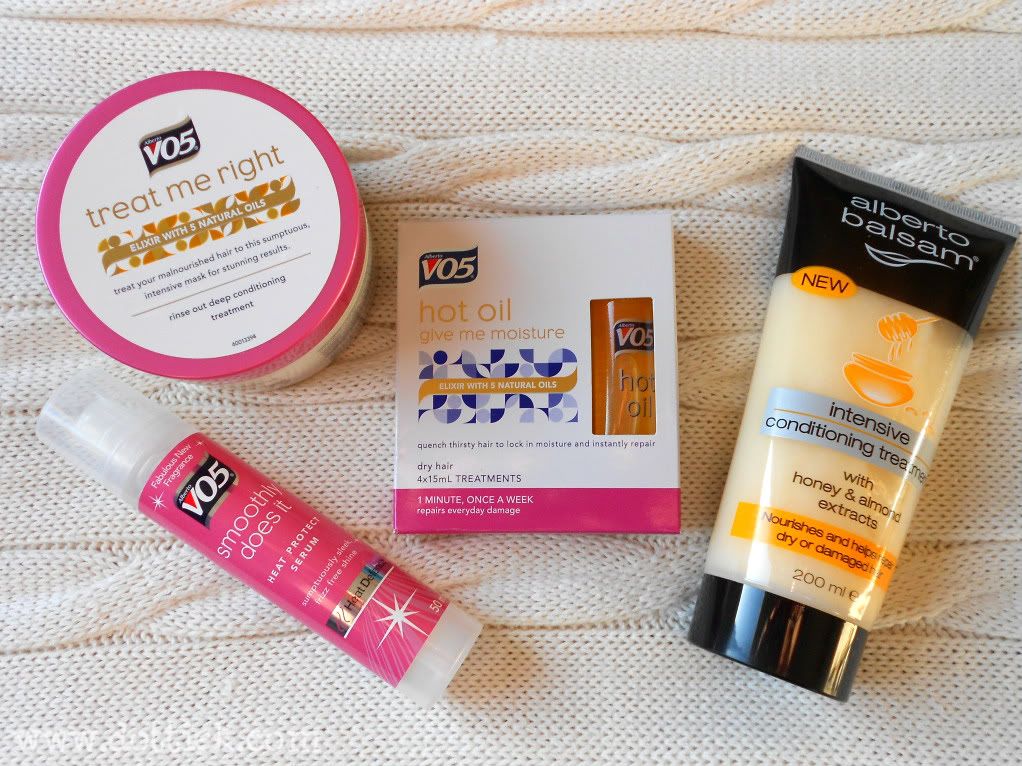 ♥ VO5 Treat Me Right Rinse Deep Conditioning Treatment
Once a week I tend to give my hair some extra love and I've been using this mask to help deep condition and nourish my tresses. I love the scent, it smells just like the VO5 Miracle Concentrate. I can rave about VO5 until the cows come home but all I really want to say is: You. Need. This. In. Your. Life. :)
♥ VO5 Smoothly Does It Heat Protect Serum
I've never used a serum that has heat protection in it before so this was something new for me. It's a great two in one product as it leaves you with sleek, shiny locks without letting them get frazzled to death by heated appliances. And we've all got carried away when curling our hair and gotten side tracked... No? Just me then. Whoopsie ;)
♥ VO5 Hot Oil Treatments
These are a MUST HAVE. This time last year I'd have thought you were mad as a hatter for telling me to put oil on my hair. Surprisingly this is one of the best things I've ever done. Super soft, sleek, shiny, perfect hair? Yes please.
♥ Alberto Balsam Intensive Conditioning Treatment
This brand is one I haven't used in donkey's years, but I was surprisingly impressed with how lovely this conditioner is. I've been alternating (give my bathroom a till and it's a branch of Boots) between conditioning treatments and I was surprised at how nice this was to use. The scent reminds me of the Dove products and it is a lovely product that does exactly what it says on the bottle.
♥ ♥ ♥
Which hair products do you use and love? Have you tried any of the above?
* PR samples - products were sent for my consideration - read my disclaimer *