♥ Designer ♥
Oh ye of expensive tastes. These four fragrances are my absolute must haves and I've repurchased them all.
Marc Jacobs fragrances never fail to wow me. The packaging is amazing! Is it just me? - I can never bring myself to throw an empty bottle out! Daisy Eau So Fresh was my first foray into the world of Marc Jacobs and it's my favourite fragrance for summer.
Oh, Lola! was a birthday present and it's perfect balance of fruity and floral notes soon became my new favourite scent. It's sweet and lovely and I'm gutted that it's almost empty!
A long time favourite of mine is Dolce & Gabbana's Light Blue. The refreshing citrus scent has never been far from my reach and I've repurchased countless times since I discovered it in my teens! It's definitely a compliment winner.
My final designer fragrance is the original Jimmy Choo perfume. It's deliciously sweet, full on, heady scent lasts all day long on the skin.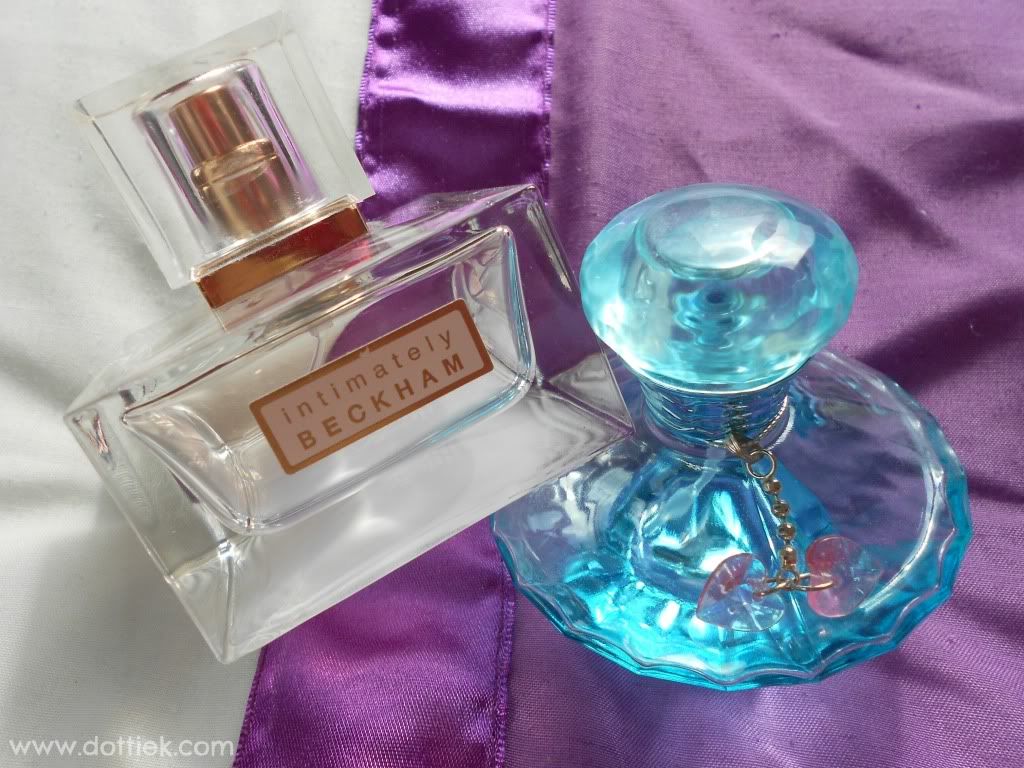 ♥ Celebrity ♥
I'm not really a fan of celebrity fragrances but these two have been a couple of failsafe choices in my collection.
Intimately Beckham was introduced to me by my sister a few years ago. It's a gorgeous floral scent with a hint of musk and despite being an Eau de Toilette, it lingers on skin all day long.
I've tried a few of the Britney fragrances but Curious is my absolute favourite. I came across this at uni. I was in need of a new perfume that wouldn't break the bank and I found the large version of this for something silly like a fiver in our Students Union. Bargain. The scent is absolutely gorgeous, just a pity it doesn't last all day on the skin (one for the Travalo methinks!), although I've found it lingers on clothing and smells amazing.
♥ Brand ♥
Being a huge Illamasqua fan, I couldn't not treat myself to Freak when it was launched last year. Initially I was intrigued and a tad cautious as it was a unisex fragrance - I'd not come across one before. It's dark and captivating and different from anything I've ever tried before. Freak definitely has a hint of the masculine about it but I think thats what I love the most about it.
♥ ♥ ♥
Which fragrances are your absolute must haves?