It's that time of year again, when we eagerly await the launch of Illamasqua's highly anticipated A/W 2012 make up collection:
L-R: Evelyn (72), Ian (40), Mairi (39)
Generation Q
is a celebration of beauty. Ageless, and without limits or restrictions. It's Illamasqua's declaration to the world that beauty is inclusive, not exclusive. In fact, Generation Q is a clear message to everybody, everywhere that beauty is not young, old, black, white, male or female, but anything, everything and everyone. If you're someone who does not want age to define them, don't want to blend in and fade away, you are Generation Q.
~*~
Evelyn
"I feel definitely that if you love glamour or care about your appearance then be empowered - let's believe in ourselves and go for it! I never imagined I would be wearing false eye lashes or red lipstick again and am thrilled to re-find the sense of fun that making up can give you with the promise of endless possibilities in new looks."
Mairi
"I think it's a great idea to use real people for your campaigns, it's raw and exciting, because age doesn't matter - it's how you feel on the inside that does, if you are confident about you look, it shows."
~*~
For Illamasqua, this is a stand the brand were born to take. So in typical Illamasqua style, they've done something that no other brand would or could do. The new Generation Q campaign will go against the industry's unspoken and despicable taboo, by featuring older models as well as young. Because to Illamasqua, hiding your age is like hiding your true identity. After all
"Illamasqua customers will not be told what to do and when to do it
"
Julian Kynaston, Illamasqua Founder.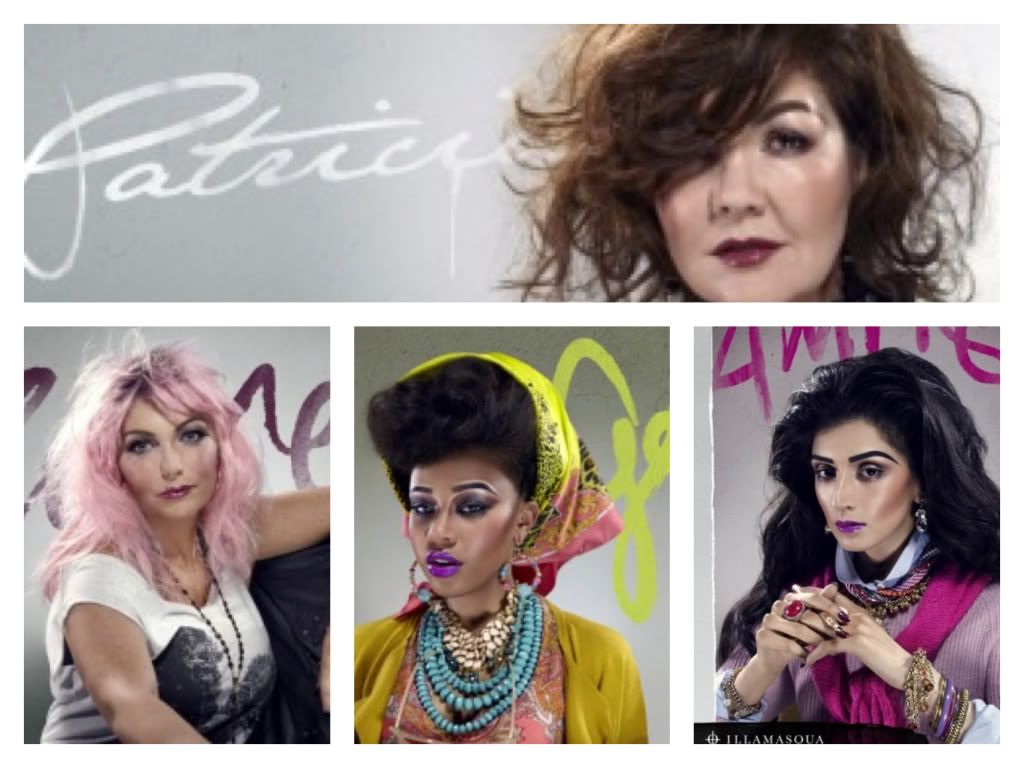 Top
: Patricia (55)
L-R
: Karen (40+), Georgia (22), Amrit (21)

Karen
"I'm past 40! Life is for living and if I feel happier by surrounding myself in bright colours and sparkly things then I WILL. I often get stared at when I walk round towns, shops because I am a little OTT, distinctive hair and make-up and I do WANT to stand out in a crowd. So each time someone stares ... I smile at them because I'm happy with my individual look and 99% of the time they smile back."
Amrit
"I think more brands should notice what Illamasqua are doing and take it on board... Make-up is about confidence, and if bright colours, bold statement make-up helps show this then why not? Age doesn't matter whatsoever, it's merely a number."
~*~
Illamasqua is not just make-up for the skin. It's make-up for a mind-set. And it's why all the Generation Q models aren't models at all, but real make-up fans, with a real life and real sense of their own beauty. The future of beauty is changing and we are the new voice of a brand new generation - Generation Q, where beauty has no age limits
"Generation Q - is generation YOU!
It's what they tell you not to do; it's what you see your true self through.
It's what is old and what is new.
What you know and what you knew.
It's what you feel and what is true"
Alex Box, Illamasqua Creative Director
♥
The Collection
Generation Q
empowers and complements the user with
light reflective not age reflective products. The collection is a story of sultry, forbidden shimmer and creative formulations to build dimension.
All products and shades included in
Generation Q
have been formulated and chosen irrespective of age, race, gender or sexual preference to give everybody the tools to express their alter ego.
Illamasqua is standing up against the industry rule of "only wearing matt" products and concealing your real identity under a sea of "beige" after a certain age. Complementing and empowering your true beauty, shimmer is adorned to accent, highlight and lift features. Generation Q
is a celebration of today, where beauty and creativity has no sell by date.
Generation Q consists of two new palettes, Empower and Complement (£34 each), two new lipsticks, Magnetism and Underworld (£16 each), two new intense and sheer glosses, Boost and Opulent (£14 each), two polishes, Charisma and Creator (£13.50 each), two blushes, Sophie and Allure (£18 each), a Gleam highlighter, Aurora (£18), and a new precision ink liner, Wisdom (£17).
♥ ♥ ♥
Generation Q can be found on the
Illamasqua website
now, with three items available to order now on early release, and all other products can be pre-ordered. The collection goes on general release online and in store tomorrow.
What do you think to Generation Q? Let me know which items you'll be picking up. I've already got my order sorted, so stay tuned!