Firstly, apologies for being so quiet on the blogging front this month, work has been hectic and I've barely had time for myself let alone blogging and tweeting, but fear not, I'm back now and I've decided to review the Pure Pigments from Illamasqua!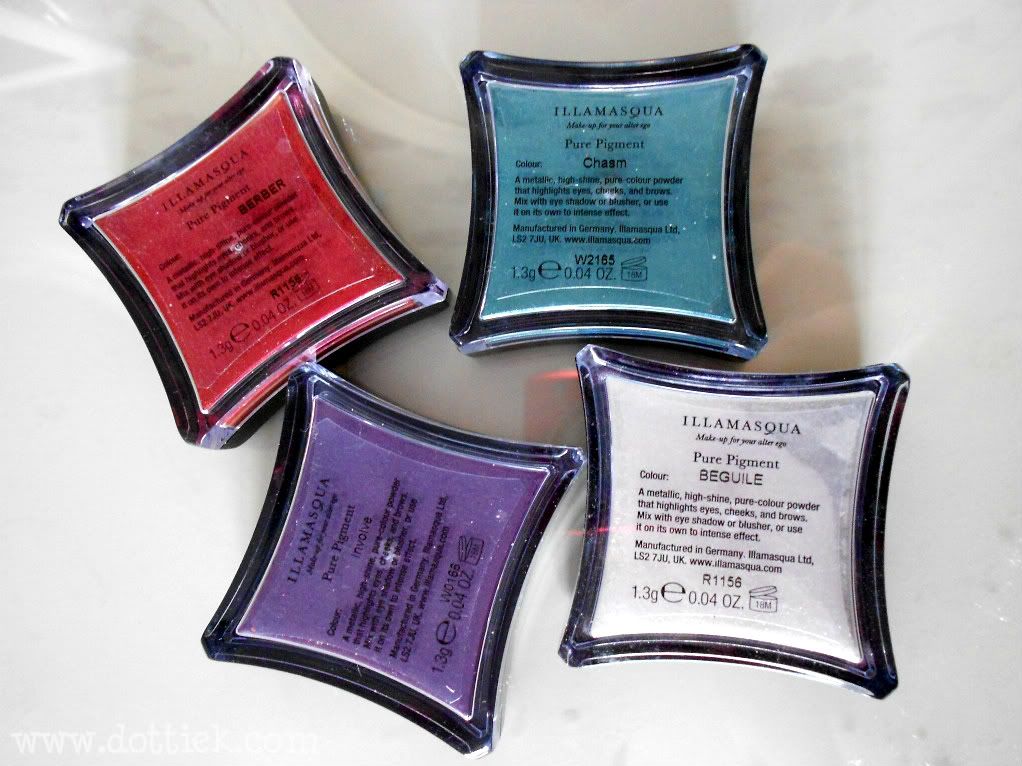 Clockwise from top left: Berber, Chasm, Beguile*, Involve
Illamasqua say
: Made to be played with. A metallic, high-shine, pure-colour powder that highlights eyes, cheeks and brows.
I say
: I love playing around with Pure Pigments! They're such a versatile product which makes the possibilities pretty much endless. My first foray into the world of Pure Pigments was quite a while ago when I purchased Alluvium. Sadly I no longer have it, but it made not only a great shadow, but a lovely franken nail polish. Fast forward to a recent Glossybox where I did a swap with a fellow blogger and got Involve which is a beautiful purple shade that I love to use with a purple smokey eye. I was also lucky enough to be invited to the Theatre of the Nameless blogger event where I received Beguile which I was chuffed to bits with because it is GORGEOUS. I've used it as a shadow, highlight and in franken polishes. As soon as the collection launched online I bought Berber which is a stunning red shade and I love to wear it as a shadow and also as a liner when mixed with Sealing Gel (which you also need in your life by the way!) My most recent addition to my Pure Pigment collection is Chasm which I bought at IMATS a few weeks ago after seeing it on a member of the Illamasqua team. Impulse purchase ;) It looks absolutely beautiful as a shadow and I cannot wait to try it out as a liner and a franken polish!
Illamasqua say
: Mix with eye shadow, blusher or use it on its own to intense effect. Bring out your bold side.
I say
: Pure Pigments work well on their own, but to intensify the colour I love either using them over a base like a Cream Pigment or a kohl pencil, or mixing them with Sealing Gel as a shadow or liner. Mixing them with a nail polish is fairly easy and can automatically bring new life to a polish that you're bored with! The pigments can also be used to mix with blusher but the shades I have wouldn't really work for every day wear. The one teeny gripe I have with these is the packaging. I can see why they are how they are but sometimes it's just a pain to try and get product out, especially when you're near the end of a product. I would absolutely love it if they came in pots with sifters instead of just a small round hole in the centre covered with plastic.
Price: £15.50
Available from
: Illamasqua stores, counters and
online

Product: 10/10
Price: 8/10
Packaging: 8/10
Overall: 9/10
Repurchase: Absolutely!!
♥ ♥ ♥
Are you a fan of the Illamasqua pure pigments? Want to get your hands on some of the favourites? In that case, head over to
Buyapowa
this week where you can get your hands on my Bloggers Week co-buy of 3 cult Pure Pigments!! Will you be snapping their hands off? I know I will! Be sure to check out the other Bloggers Week co-buys too! I've popped the badge on my blog as a reminder :) There are some fabulous items coming up so get clicking!
* Denotes complimentary item received at a blogger event - see my disclaimer