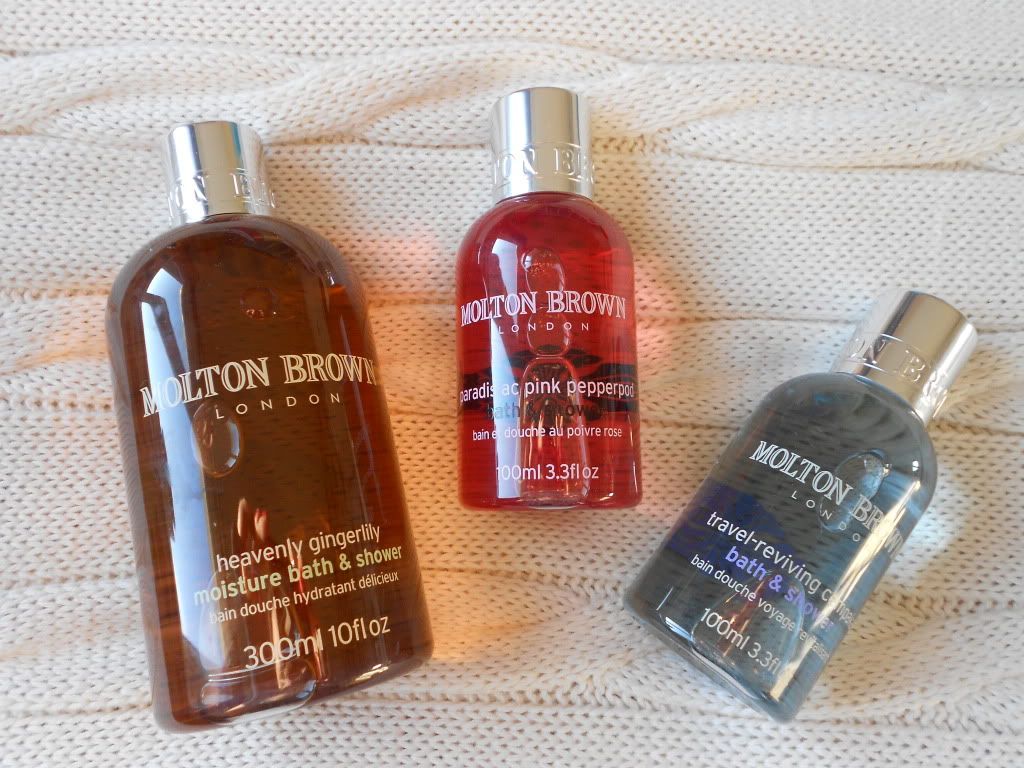 We all know I'm a sucker for lovely packaging but I absolutely love the Molton Brown bottles. Simple and stylish :)
♥ Heavenly Gingerlily Moisture Bath & Shower Gel
This has to be my absolute favourite out of the three. I was really taken with the sample in the March Glossybox so I was thrilled to be sent the full sized version. I love the scent as I'm a huge fan of lilies which is great as it lingers on your skin for a while. Did anybody else receive this in their Harrods Glossybox?


♥ Paradisiac Pink Pepperpod Bath & Shower Gel
Don't be fooled by the pink, this isn't a stereotypically girly product! For me, this is a slightly more masculine scent but it is absolutely beautiful and reminds me of summer and citrus fruits. This product claims to restore your energy banks and I have to say it does leave me feeling more awake after use. I've been reaching for this more and more and I definitely think I'll have to buy the full sized product!
♥ Travel-Reviving Campala Bath & Shower Gel
Blue is a calming colour so it's quite apt that this is marketed as being a reviving product. Again, I think this shower gel has quite a masculine scent and it's not one I'd typically reach for to be honest. If you're a fan of the stronger scents, this might be one for you.
All of the above can be purchased on the
Molton Brown
website
♥ ♥ ♥
Are you a fan of Molton Brown? Do you have any product recommendations for me?
Talking of fab fragrances, BuyaPowa are having a cobuy for a £50 voucher to spend at The Fragrance Shop. Interested? Pop on over to
BuyaPowa
and sign up to the email alert. What a great way to sniff out a bargain. See what I did there? ;)
* PR samples sent for my consideration - read my disclaimer