Doesn't it feel so good now that summer has finally arrived? Rather perfect timing for the launch of Illamasqua's sultry new collection, Naked Strangers. The promo images alone make me want to own everything!
A place where alter egos are laid bare and naked flesh is a source of unashamed inspiration. In this delicate tipping point between intimacy and pleasurable detachment, we revel in the unknown; exploring the distance between pure Monogamous, gilded Faithful and uninhibited Swinger. Exposed nude tones, adorned with rich licks of gold, leave you gasping for more. Don't restrain yourself. Unless, of course, you enjoy it.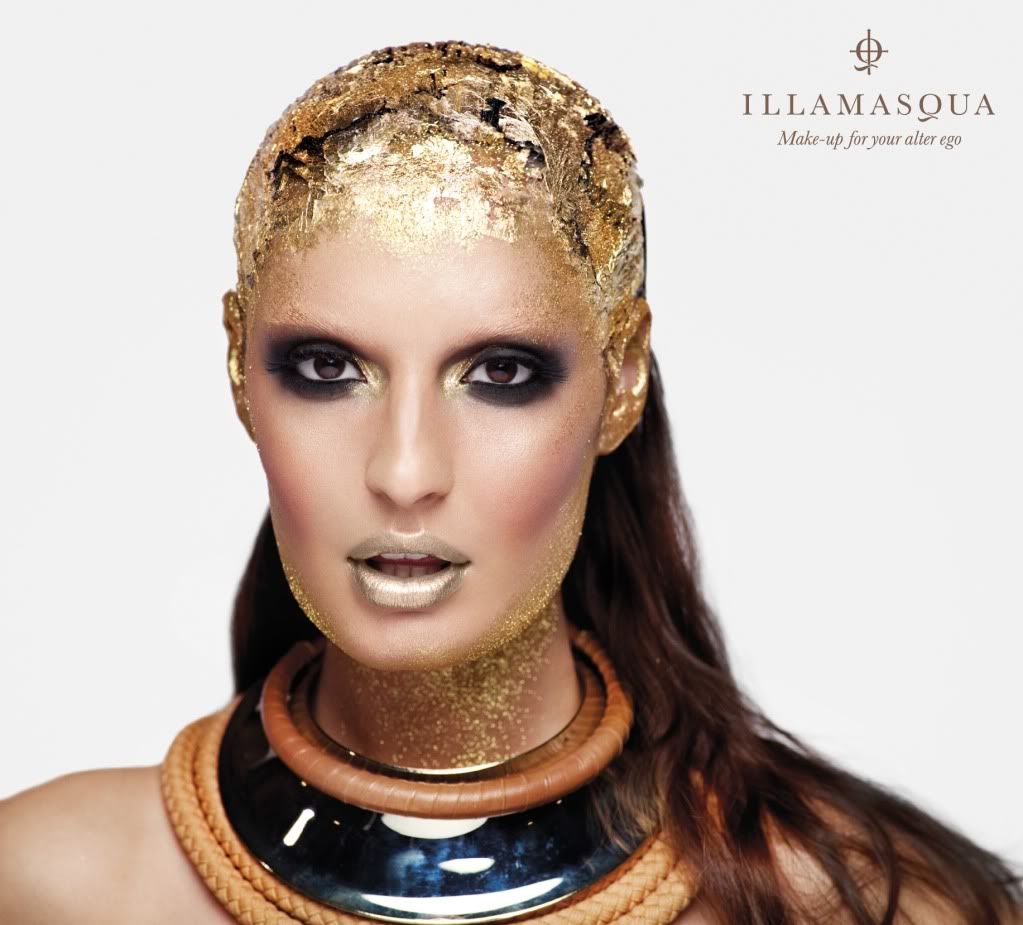 "Naked Strangers captures inner glows and depths. The deeply and darkly alluring exists alongside ethereal shimmering brilliance. We are complex and multifaceted whilst also being naked to the world."
Alex Box, Illamasqua Creative Director.
"Naked Strangers represents everything about borderlines...the human edge between romance and permissive intimacy...a step beyond control, a step past the edge and a collection of gilded moments upon the tip of sensation. Beautiful nudes with metallic edge set amongst eclectic textures."
David Horne, Illamasqua Director of Product Development.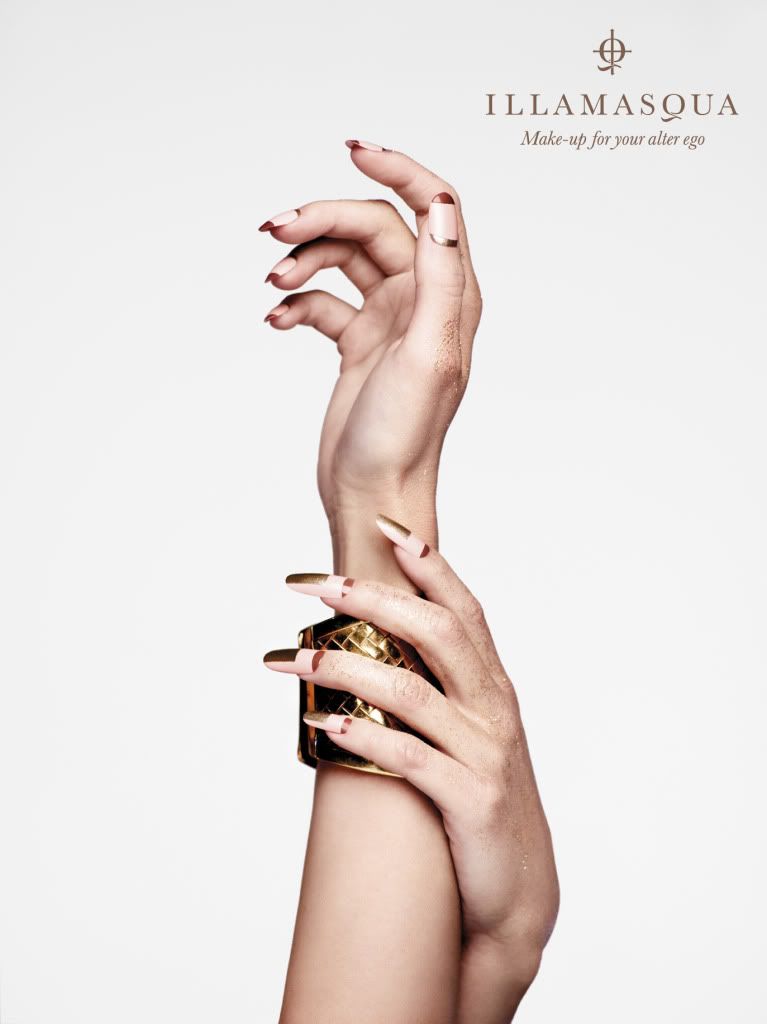 If you're a fan of the nail art, you can check out the video featuring Rebecca Jade Wilson showing you how to recreate it on Illamasqua's YouTube channel.
To celebrate the launch of the Naked Strangers collection,
Rebecca will be appearing on the Illamasqua counters at Selfridges Manchester Exchange and Selfridges Oxford Street to personally introduce you to the stunning new shades.
Rebecca is the nail artist of choice for the likes of Rita Ora, Lauryn Hill, Beth Ditto and Georgia May Jagger as well as having her work featured in the likes of Sunday Times Style, POP, Russian Vogue and Wonderland magazines.
Appearing in stores on Wednesday 6th and Thursday 7th June, Rebecca will be hosting 45 minute, £25 fully redeemable appointments for a basic shape and colour change or you can fully immerse yourself in the collection with replica Naked Strangers nails. To book an appointment at the Oxford St counter (7th June 2-7pm) call

0207 318 3114 or for an appointment at the Manchester Exchange counter (6th June 3-8pm) call

0161 838 0616.
Let me know if you go, I'll be super envious! Don't forget to tweet me a photo :)
Products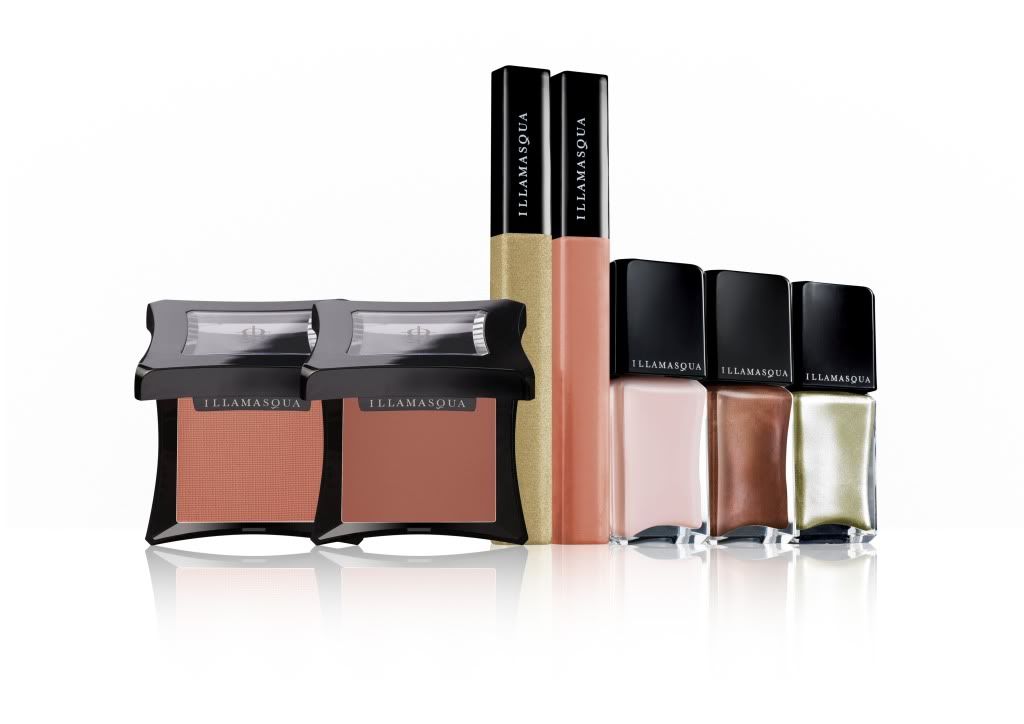 Nail Varnish (£13.50)
Dress up your nails and explore your fantasies with our award-winning Nail Varnishes. Are you Monogamous (creamy flesh pink, matt finish), Faithful (coppered metal) or Swinger (glistening platinum gold)? Apply a lustful layer then answer our question.
Lipglosses (£13.00)
Lick your lips then smooth on a rich layer of Intense Lipgloss in Stranger (platinum gold) for obscene levels of pigment. Alternatively, apply Sheer Lipgloss in Intimacy (nude pink brown) on naked lips, to tease and tempt your lover. Or lovers…
Blushers (£16.50)
Stark naked might mean no clothes, but who said anything about no make-up? Create a provocative flush that lasts all night with Powder Blusher in Naked Rose (neutral beige brown) and Cream Blusher in Zygomatic (naked pink brown).
♥ ♥ ♥
Naked Strangers is available from this Thursday (31st May 2012).

Registered members of

Illamasqua.com

have the exclusive opportunity to buy the Naked Strangers Nail Varnishes before anyone else. If you're not registered (and why the devil wouldn't you be?)

click here

to log in or register.
I really do want absolutely everything! Think I'll have to restrain myself and pick Swinger, Intimacy and Naked Rose. Will you be getting anything from the Naked Strangers collection?