The August Glossybox* is all about hero products from around the world that have cult status in their native country.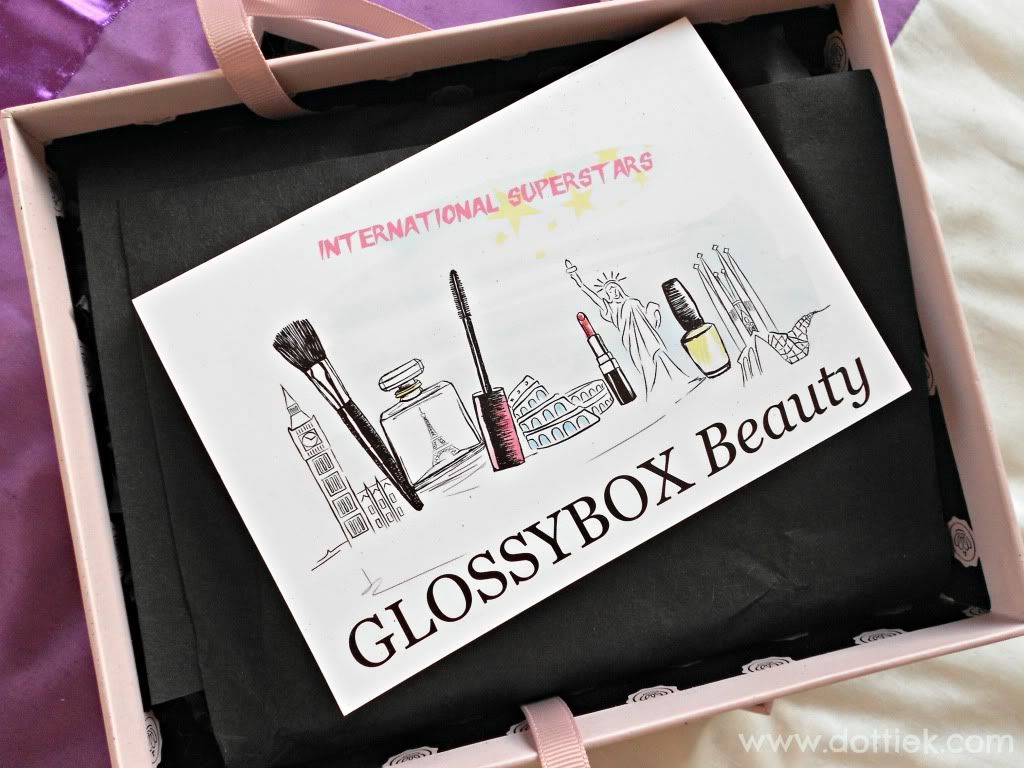 First up we have an eye shadow palette from Spanish brand Vera Valenti. It looks cheap and tacky (sorry to all you Vera loving Spanish Senoritas). There are a few good shades in there but I wasn't an overwhelmed Olivia if I'm honest. And it would seem its not just the UK that are plagued with those terrible eye shadow applicators. Although they do come in handy for ombre nail art!


Following on from the Glossybox branded accessories I've received of late, they've branched out into cosmetics and we have the first Glossybox lipstick in Glossy Pink. Its not what I'd call pink but it is a good staple lip colour. It has that generic lipstick smell - know the one I mean? - it doesn't look particularly glossy and it feels a bit greasy on the lips. Not one for me I'm afraid.



Carrying on the lip trend and flying the flag for the UK is Lipcote. I actually bought a bottle of Lipcote a few weeks ago, and I won't lie, I hate this product. It stinks, it tastes absolutely vile and its about as useful as a chocolate teapot. And don't get me started on the horrible splayed brush applicator.


Next up we have the DHC Deep Cleansing Oil from Japan. Sceptical Sandra has come out of her box again. Oil on my face to remove make up? I haven't yet tested it on my face but I have swatched stuff on my hand and removed it with this. It takes a bit of elbow grease but it works. Also in August's box is the All For Eve Eve's Balm. According to the insert, its not flying the flag for any country but I suspect its a third UK product. This is at least the third multi-tasking balm I've received in a Glossybox. Come on chaps, some variety please! Eve's Balm has that lovely, soothing scent and it's moisturising without being greasy. Perfect handbag size and good for using on cuticles I find.


The only product I'm actually intrigued by in this box is the Pro White Original Effect Polish from German brand Alessandro. Its an optically brightening polish with an anti-yellowing formula for radiant white and gleaming nails. Any nail polish addict like myself will know how hard it is to obtain white natural looking nails when they barely ever go without polish. I can't wait to see if prolonged use will help! I'll keep you updated.

♥ ♥ ♥

Have you received the August Box? If you're from any of the listed countries, let me know if you think of the products as cult products - are they must haves?


* PR gift - disclaimer