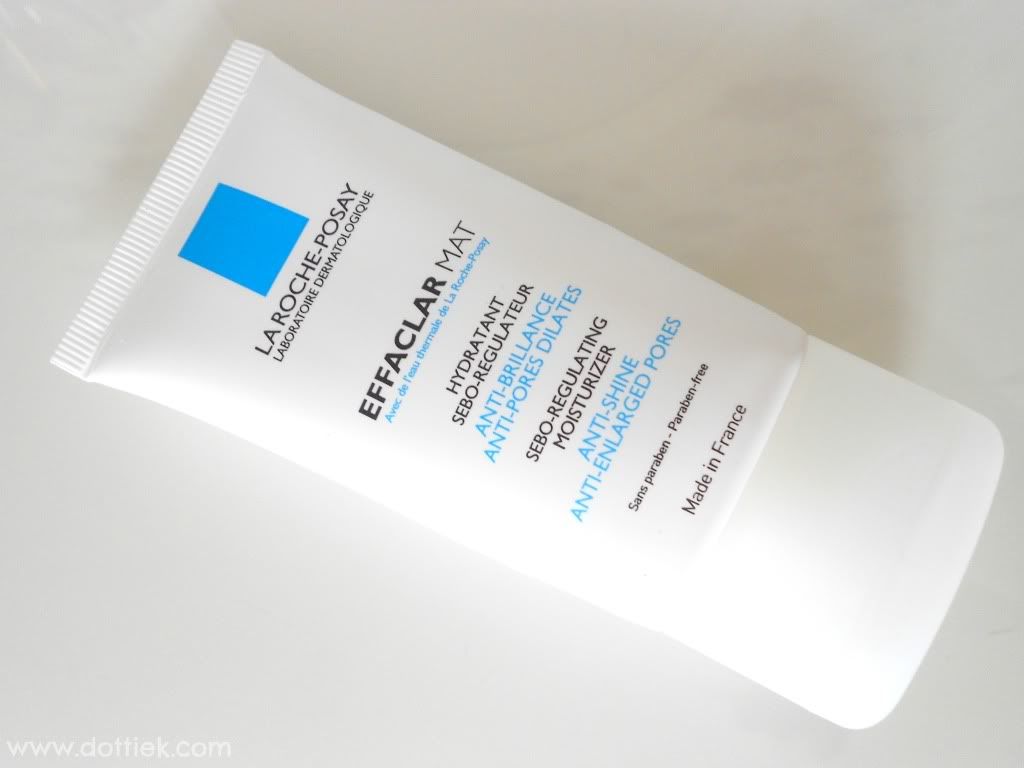 I'm always on the look out for products to help prolong the life of my foundation. In my latest quest, I've been using a mattifying moisturiser. I've heard many people mention how good La Roche-Posay are, so back in June when Boots were having a mega 3 for 2 skincare deal, I picked this up. Quite a bold move for me to spend £15 on a moisturiser I hadn't heard much about but I'm pleased to say it does exactly what it says on the box!
This product is designed to work on oily sensitive skin. It claims to have an oil-free blotting effect texture with a proven long lasting mattifying effect resulting in moisturized, mattified skin immediately which works excellently as a make up base. Prolonged use in mornings and/or evenings claims to refine skin texture, tighten pores and slow down sebum production.
Let's break that down. I'll start with a bit about my skin. First thing in a morning, my skin is fine but if I don't set my foundation I get shine in the usual places along my T-zone as the day goes on. My skin has always been a bit sensitive so I always make sure I use something that isn't going to irritate it. I tend to only use this in the morning after cleansing. I let it sink in for a few minutes before applying my foundation. It leaves my skin soft, hydrated, matte and is fine to apply liquid foundation over.
Recently I've been rotating four foundations and I've used this moisturiser with each one. To give you a rough idea of an average day, I'll apply my base make up around an hour before I go to work, sit in an office for 8 hours (and often run around like a yo-yo) and then toddle off home. I like my foundation to look good until I at least get home so I can touch it up if I'm going out. Or you know, take it off ASAP and lounge around in my PJs. Don't judge ;)
So, on good skin days, I've found Effaclar Mat works incredibly well under
Kryolan Ultra Fluid Foundation
(set with a light dusting of
Kryolan Anti-Shine Powder
). I've mainly been using and loving it under
Missha BB Cream
(again set with a light dusting of Kryolan Anti-Shine Powder). This has been my day to day base combination and it works incredibly well. I will have to use an extra dusting of powder if I go out but thats just my skin and let's remember I'm not a huge fan of the dewy look. I'm trying to embrace it but its just not happening! If you read my
Illamasqua Light Liquid Review
you'll know that the longevity of that foundation is my bug bear. I'm pleased to report that Effaclar Mat does help to make it last longer. Now, you know I'm one to jump on a beauty bandwagon so recently I purchased the much-hyped YSL Touche Eclat foundation. I was a tad wary as some people have said its not for oily skin but I have to say, using Effaclar Mat and a light dusting of powder helps it to stay on my skin for a full working day.
I didn't have a problem with my skin texture before but I've noticed my skin feels really soft and smooth lately. I haven't really noticed a difference in my pores. I don't have large pores but if you look closely you can see them. I would say it has had an impact on sebum production - any residual shine I do get appears much later during the day compared to before I started using this product.
A quick note about the packaging, it comes in a lovely slim tube with a flip lid. Give it a gentle squeeze and you can easily control how much product comes out. This becomes a pain when you're coming to the end of a tube as the bottle is firmer towards the base and I found the plastic lid kept coming off. A minor niggle really!
As I said, I use this product every morning and I've found my tube has lasted around a month and a half. You literally need a small pea sized amount to cover your whole face so it's quite good value.
Available from
:
Boots
(larger stores) &
Escentuals
(currently on offer at £12.75!)
Size
: 40ml
Price
: RRP £15
Ratings
Product
: 9/10
Price
: 8/10
Packaging
: 9/10
Overall
: 9/10
Repurchase
: Already have!
♥ ♥ ♥
Congratulations if you got to the end of that epic review! Do you use a mattifying moisturiser? Do you find they make a difference to the longevity of your makeup?