There's nothing more I look forward to than the Autumn/Winter season. The promise of colder weather, wrapping up in chunky knits, walking on crunchy leaves, and the sumptuously rich colours adorning cosmetic counters everywhere. And of course the time of year brings with it a new collection from what is fast becoming one of my favourite brands. Illamasqua's
Generation Q
ticks all the boxes for me with just the right amount of shimmer, sparkle and rich dark shades.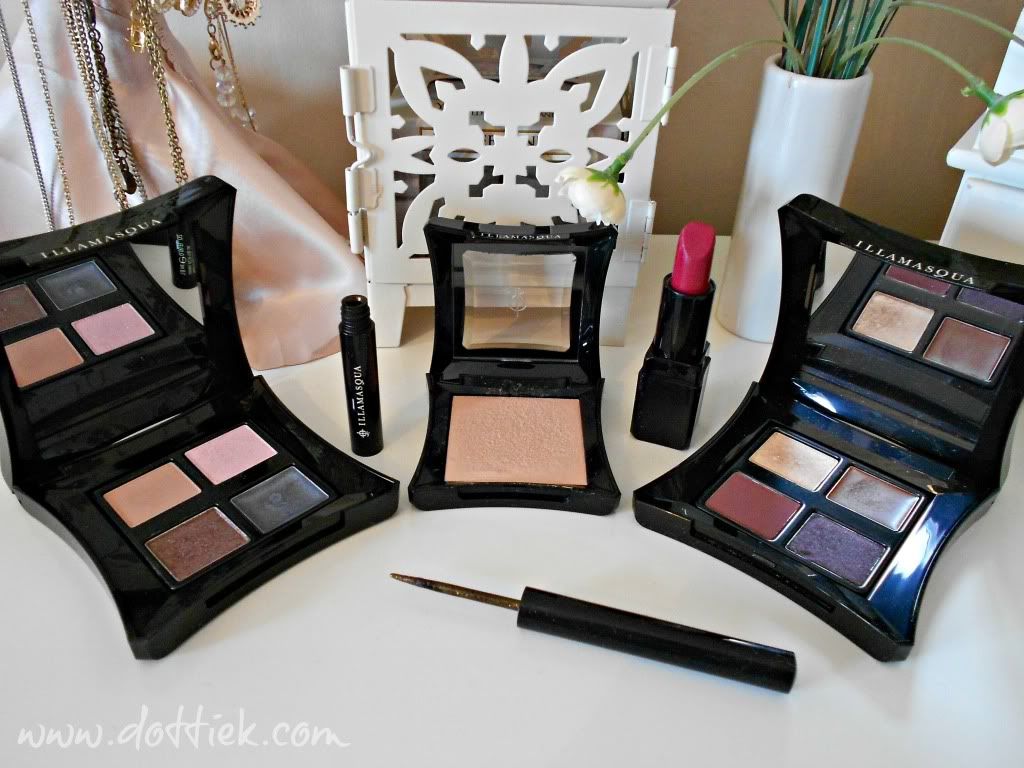 Empower Palette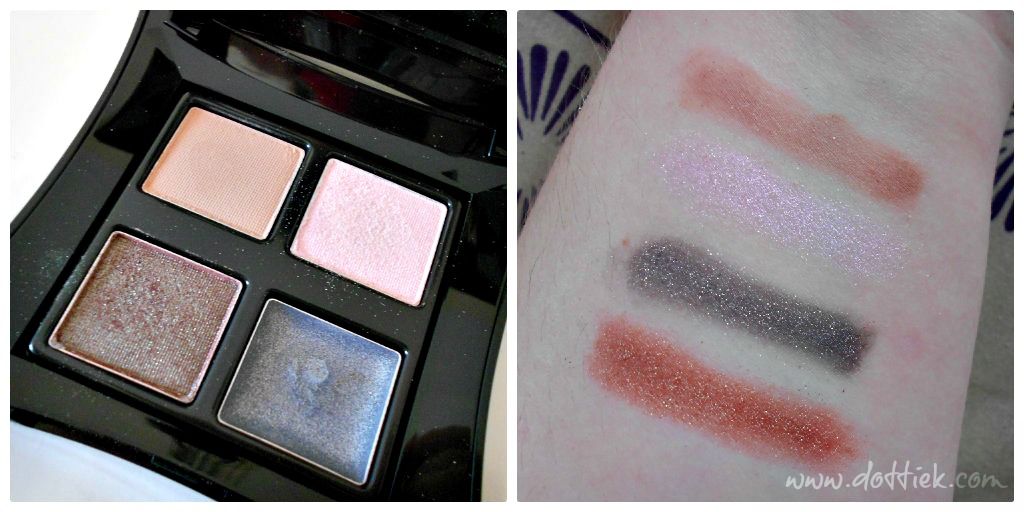 L-R
: Clockwise from top left - Blink (matte), Synth (shimmer), Slick (liquid metal) and Fervent (shimmer); Swatches in the same order
I have to say I didn't order this originally and kicked myself when I saw it in store. It's absolutely lovely. There are three powder shadows and one liquid metal. Blink is a great neutral beige-brown. Synth is like nothing I've ever seen before - a beautiful iridescent pink - and layers incredibly well, especially over Slick which is a gorgeous shimmery pewter shade. Fervent is an absolutely stunning colour. In the pan it reminds me of MAC Club but this is a lot more red-toned. It looks fab paired with Focus liquid metal from the Complement Palette.
Gleam Aurora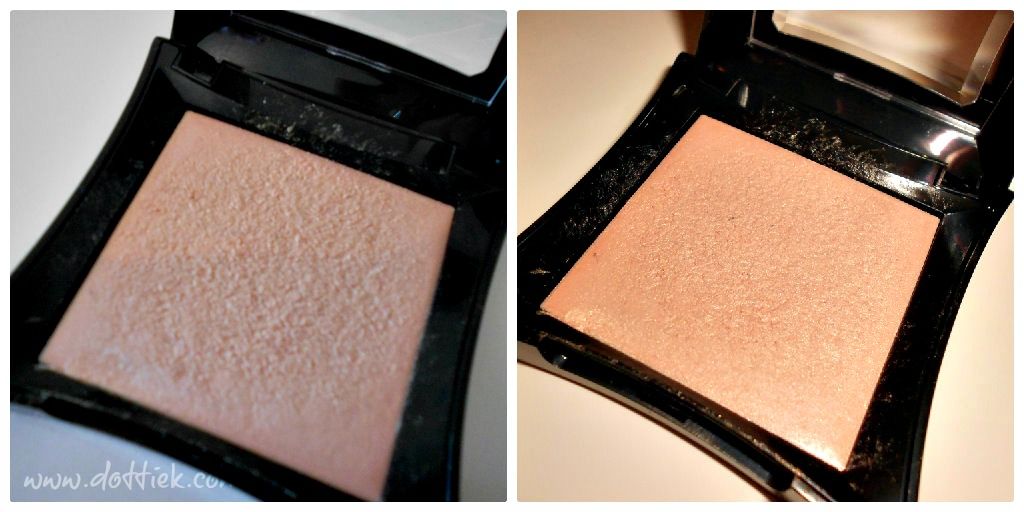 I saw the beauty of Gleam Aurora back in the summer when I visited the Beak Street store with
Leanne
for a masterclass on mature beauty. I knew I had to have it and it was the first thing on my list to order when the collection launched. It can be used over or under foundation to highlight or to give a natural glow. Absolutely stunning and its perfect for brightening up your complexion over the coming winter months.
Magnetism Lipstick & Wisdom Precision Ink

L-R
: Magnetism Lipstick, Wisdom Precision Ink, Swatches: Magnetism, Wisdom, Gleam, Gleam blended
For some crazy reason, I'd also overlooked Magnetism lipstick until I saw it on the gorgeous
Milly
. I've tried this straight from the bullet and muted down using a lip brush and both give such a lovely effect. This will definitely be my go-to lippie this season.
The new Precision Ink in Wisdom was a no-brainer for me. I've tried three Precision Inks prior to this one and they're all amazing. Colour pay-off is excellent and the longevity is unrivalled. I became impatient for the release date as soon as I saw
Leanne's post
with the press sample. I've used this pretty much every day since I got it. Wisdom is so, so beautiful. You need this in your life.
Complement Palette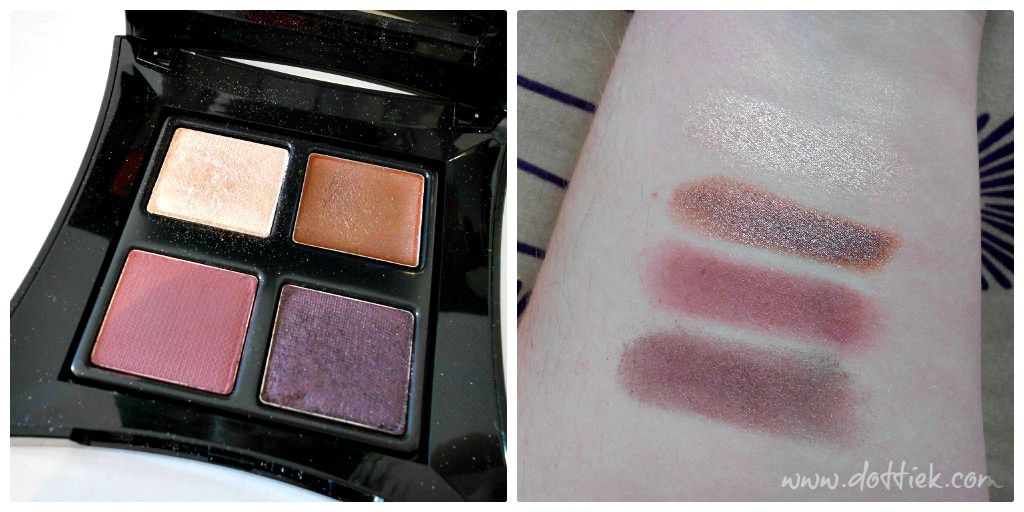 L-R
: Slink (shimmer), Focus (liquid metal), Queen of the Night (shimmer), Forgiveness (matte); Swatches - Slink, Focus, Forgiveness, Queen of the Night
Complement is my favourite of the two palettes from Generation Q. Again, there are three powder shadows and one liquid metal. Slink is a beautiful champagne shimmer that looks beautiful as a highlight or all over the lid. Focus liquid metal is stunning alone or you can layer other colours over it. Queen of the Night is lovely for an intense purple smoky eye or great as a liner. Forgiveness is like MAC Cranberry minus the shimmer and I like it layered over Focus.
♥ ♥ ♥
Generation Q is
online
, in store and on Illamasqua counters now.
If you fancy ordering now there's currently free delivery on all orders, UK and international, with no minimum spend or code to enter. You best be quick, the offer ends 9am Monday 15th October!
What do you think of Generation Q? Have you bought anything?