Hello. My name is Kim and I have an excessive amount of make up brushes. I have three overflowing brush holders on my dresser and two brush rolls. Not mentioning the brushes that won't fit in said brush holders. All in the name of beauty!
Having seen the gorgeous ladies from Pixiwoo mention
Louise Young
brushes, I picked up a couple at
IMATS
earlier this year. I hadn't heard of Louise Young beforehand so I'll give you a little bit of background. Louise has been a make-up artist for over 20 years, making up some of the world's most famous faces as well as working in film, fashion, television and theatre. Her work doesn't stop there as she also lectures in media make-up, has written her own courses on the subject and contributes to TV and radio as well as working on many popular UK films and TV series.
I love the brushes that I bought at IMATS, so I was thrilled to be able to try a few more.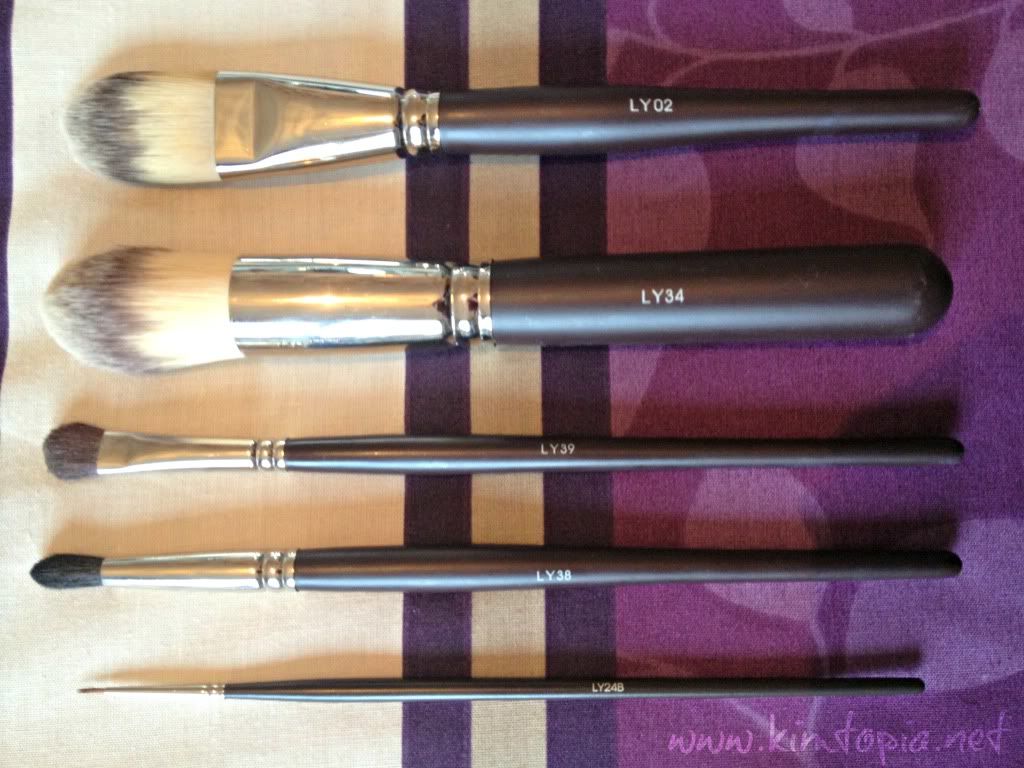 Top to bottom
: Foundation Taklon LY02*, Super Foundation Brush LY34*, Domed Shadow Brush LY39*, Tapered Shadow Brush LY38*, Ultrafine Liner Brush LY24B*.
I really cannot recommend these brushes enough. They're of such high quality craftmanship, all handmade and assembled in the UK using Forest Stewardship Commission protected kiln dried birch or beech.
Foundation Brushes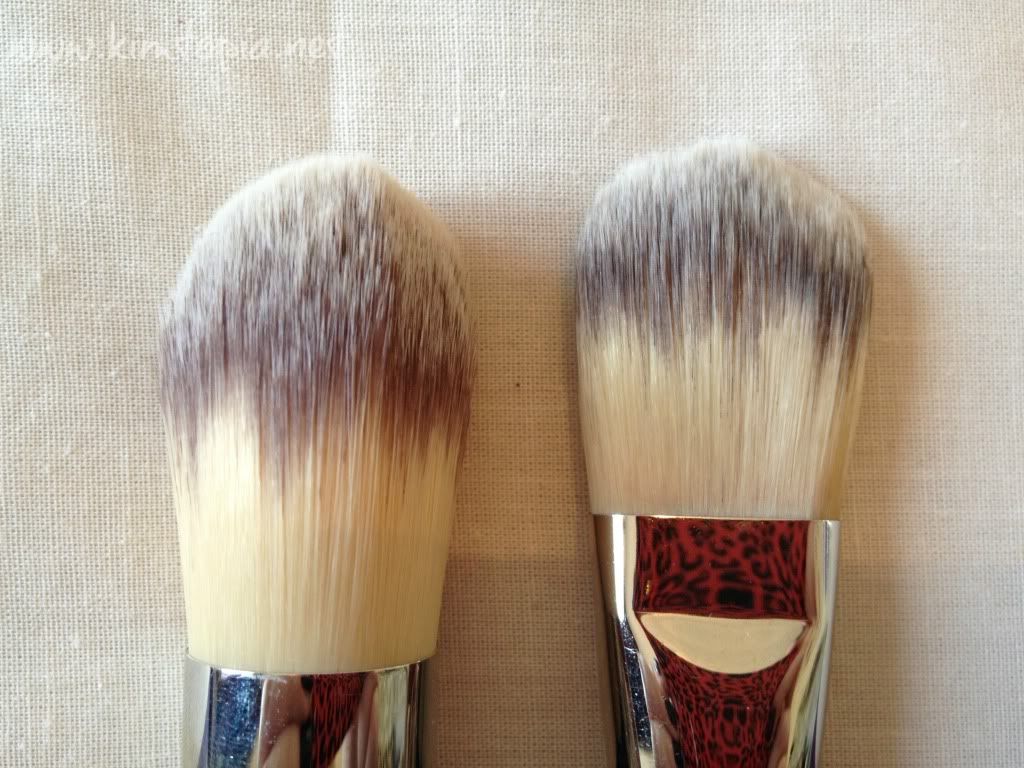 L-R
: LY34 and LY02
The LY34 Super Foundation brush is described as being a large, luxurious brush with a number of potential uses. It applies foundation perfectly and is also great for block powder and blusher.
I have been using the LY34 for powdering my T-Zone, a job it does superbly well. The bristles are synthetic and incredibly soft. I've experienced no shedding and it washes well with no loss of fibres or colours.
The LY02 Foundation Taklon brush is described as being a luxury foundation brush which makes foundation application quick and easy.
I've never been a fan of flat foundation brushes, they don't really work for me. That being said, I decided to give this brush the benefit of the doubt. Whilst it's a very nice brush, synthetic and soft, I found it to be a little too firm for my liking and it seemed to absorb a lot of product. Again, I found the LY02 doesn't shed and washes well.
Eye Brushes
L-R
: LY24B, LY38, LY39
The LY24B Ultrafine Liner Brush is a natural fibre brush that claims to create the very finest eye lines. Perfect for detail work and lining very close to the roots of the lashes.
I find this brush to be an absolute must have in any collection. It's so incredibly small and precise and I find it really helps to get colour right into the lashes to create a defined lash line. It's also perfect for lining towards the inner corner of your eye and defining your lower lash line. Despite the lashings of eyeliner this brush has endured, it washes incredibly well and again, no shedding experienced.
The LY38 Tapered Shadow Brush soft brush enables perfect application of shadow to the crease of the eye.
I thought I'd found my perfect crease brush in the shape of a trusty, much loved pencil crease brush from GOSH however I truly think the LY38 might just have stolen the limelight. It's natural fibres are so, so soft which makes blending colour an absolute delight as it doesn't feel uncomfortable at all. I also find this brush good for depositing glitter pigments lightly over shadow on the eyelid. It seems to pick it up remarkably well. I've experienced no shedding with this brush, and it washes well with no bleeding of colour.
The LY39 Domed Shadow Brush is described as a super soft eyeshadow brush - perfect for applying and blending shadows.
I couldn't agree more! Because it's so soft and gentle its great for not only applying colour but also for blending colour out and also for running colour under the lower lashes. It's incredibly versatile and I've used this with powder eye shadows, cream eye shadows and cream gel eye colour. Once again I've experienced no shedding and no colour bleeding during washing.
Brush Care
To care for my Louise Young brushes I use brush guards on the foundation brushes to help keep their shape. To cleanse I use lukewarm water and Johnson's Baby Shampoo before rinsing, reshaping and laying flat on a towel to dry.
♥ ♥ ♥
The Louise Young brushes mentioned in this post start from £9.00 and are available on the Louise Young website.
Do you own any Louise Young brushes? Do you have any recommendations?