Oh Winter you do treat us well. Cold weather, an absolute age until pay day, and a credit card bill as long as your arm. Today's guest post is a bit of a lifesaver. Roxanne from Love Vintage is going to show us her best budget beauty buys so we can still look fab on the few remaining pounds in our purses. Perfect!
Many of us probably like to over-indulge every-so often by buying things that are quite expensive, but total luxury. Although high-end products are an expense worth making, there are also many bargains to be had on the Great British high street. You can often find good quality and affordable items in Boots and Superdrug and they are usually around a 1/3 of the price! I am here to show you what I would regard as 10 of the best!
1. Rimmel Wake Me Up Foundation
This
foundation
is one of the best I have ever used. It offers a medium coverage, lasts all day and gives you that dewy, healthy finish that everyone is after. It really is one of the best on the highstreet and is an absolute bargain at around £8.99! A must have in any make-up fanatics collection!
2. Palmers Cocoa Butter Formula Moisturizing Body Oil
There is nothing I like more after a long day, than stepping out the shower and using this
body oil
to give my skin some nourishment. It leaves skin feeling SO soft and the best thing is it absorbs really quickly, so your not left with that damp feeling as if you can't get changed. The smell is also not as strong as all the other Palmers products which is actually something I really like as I find the typical scent a bit sickly!
3. Real Techniques Buffing Brush
This brush is A-M-A-Z-I-N-G. It is super soft and blends foundation in an instant without worrying about streaky patches or tide lines. It is honestly one of the best items I have in my make-up collection and I don't know what I'd do without it. I know it is not that cheap as you have to buy it in the
Core Collection
which retails at around £21, but in all honesty it is fantastic and is just a staple to have that will last you a long time.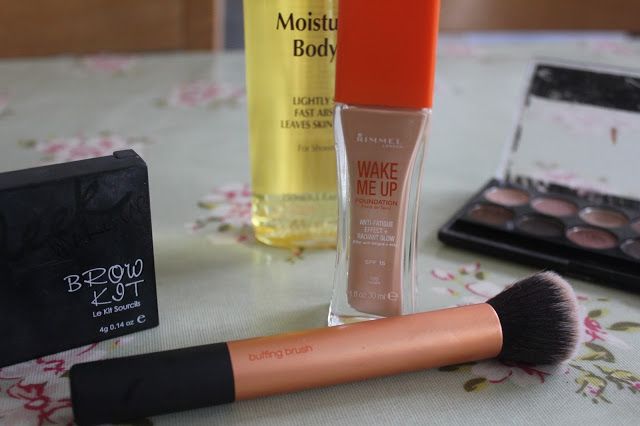 4. Sleek Brow Kit
This little beauty is a fantastic dupe for the Benefit Brow-Zings, and in my opinion, just as good. It comes with a powder and a wax, and together they make the perfect
brow
combo!
5. Kate Moss for Rimmel Lipsticks
I adore
these lipsticks
! In my opinion they are some of the best from the drugstore. They are so pigmented and feel wonderful on the lips. I have four of them, one from each of the collections and 2 from the matte collection and I love them all. They are such a bargain at only £5.49!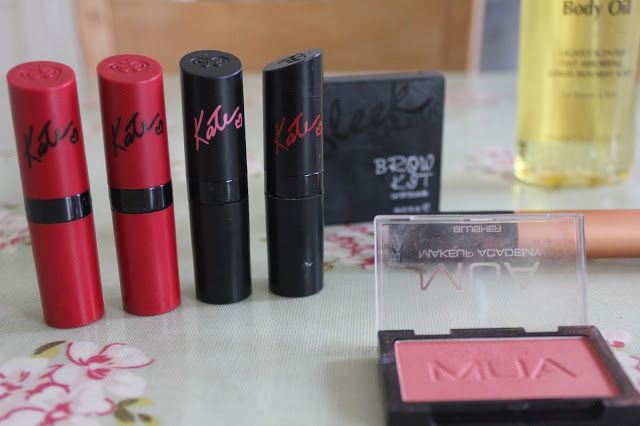 6. MUA Blush
The MUA £1
blushes
are probably one of my best discoveries. They are ridiculously pigmented that you literally only have to hover your brush in them and you have more than enough to use. They also come in really wearable shades-and all this for just £1. It's a no brainer really- buy one!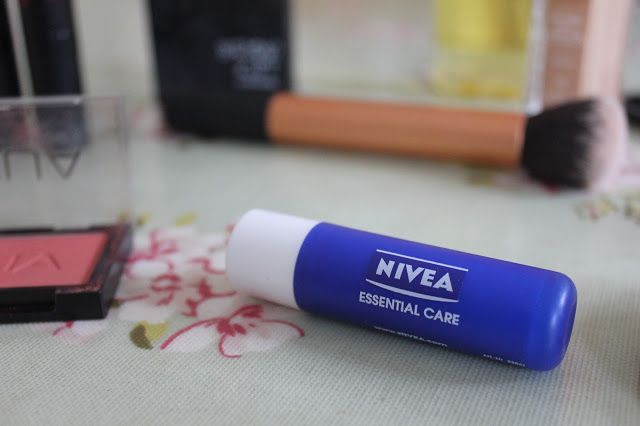 7. Nivea Essentials Lip Balm
This
lip-balm
is so moisturising, smells delicious and is so cheap. I love to apply it before I put my make-up on as it just makes my lips feel super soft. It is also very glossy so can be worn by itself as a type of clear gloss.
8. Topshop Cream Blushes
I LOVE these
blushes
. They are a cream to powder formula so don't feel all sticky and horrid on the face. They also come in a beautiful range of colours and are only £6! I do wish they lasted a bit longer on the cheeks though!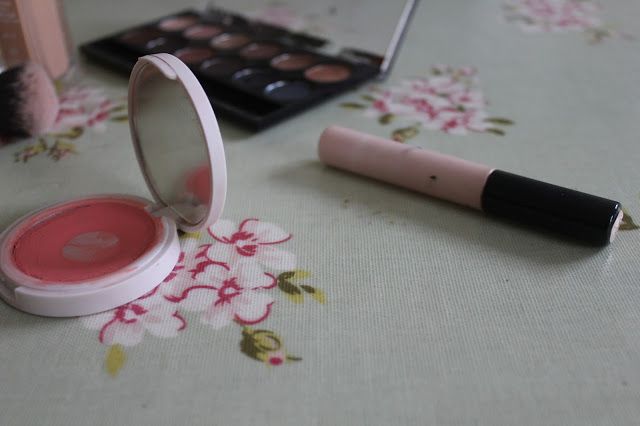 9. Collection Lasting Perfection Concealer
There is so much hype around this product and it totally deserves all the praise it gets. It covers everything in sight and is so affordable compared to many other good quality
concealers
on the market.
10. MUA Undressed Pallet
This bad boy
is incredible for the price. It has so many different shades of wearable colours that all look amazing together. It is meant to be a dupe for the UD Naked Pallet but if you're on a budget this would do amazingly!
I'd just like to thank Kim for allowing me to Guest-Post on her wonderful blog!
What are your best drugstore finds?
Thank you to Roxanne for a lovely post! For all things fashion, beauty and vintage, pop over to her blog :)
If you'd like to guest post for Kimtopia, please drop me an email