Time for another guest post, and taking the reigns today is London fashion blogger Thalia. With a flair for putting fab outfits together and a passion for polish, today Thalia is showing us how to achieve the au naturale look!
~*~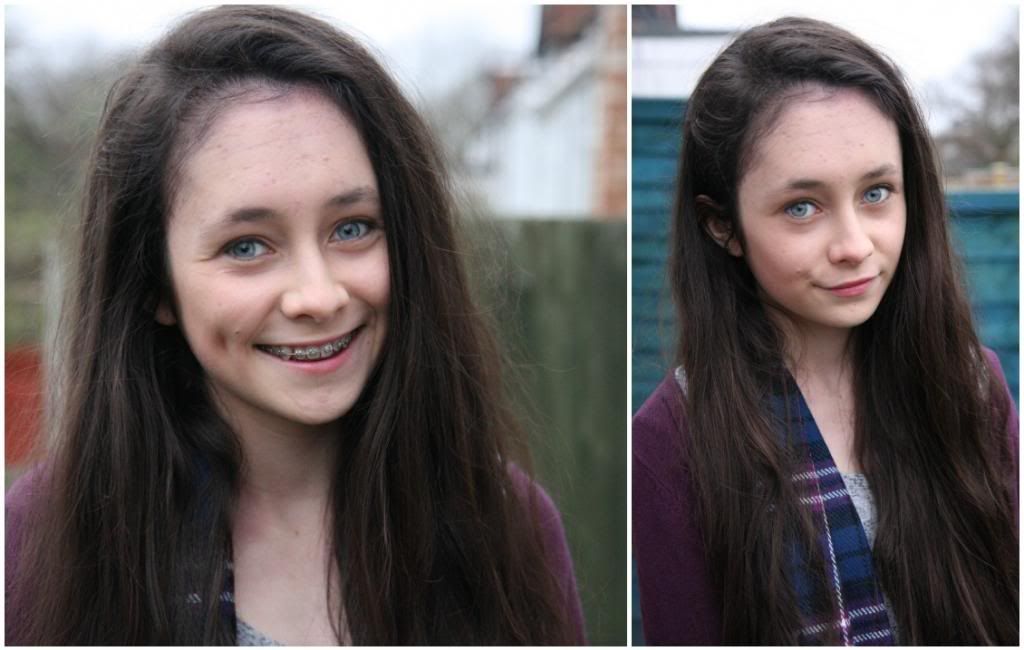 Heya guys,
I'm Thalia, a fifteen year old fashion and beauty blogger from London. Kim's kindly let me raid her blog (temporarily, of course) so I thought I'd show you my favourite make up look...au natural. Not only does this look literally take only five minutes or so to master, it's perfect for lazier days or when you just want to look clean and fresh.
Benefit Porefessional Primer
This product is huge in the blogging world, one of Benefit's bestsellers and I understand why. It has a somewhat peculiar texture, like whipped serum that glides on the skin giving it a smooth and plump texture. It smells decent and primes the skin well, holding onto my foundation for hours. I got the sample from a magazine last year as I can't afford to spend £22 on a primer (as much as I may want to) but the tiny sample has lasted me a while. Thumbs up.
Bourjois Healthy Mix Serum Foundation
What can I say, I freaking love this stuff. It has a lightweight texture, very tinted moisturiser-like and isn't too heavy on the skin, which is what I love. I'm really not a huge fan of the way foundation feels on the skin, but this does the job of concealing redness whilst giving a rather pleasant finish. It also smells lovely too, I notice how Bourjois really do put effort into making sure the scents of their products are good. This one doesn't disappoint, being fruity and all.
MUA Professional Eye Primer
This definitely wins a bargain award. This tube costs a mere £2.50, which is great if like me you may want to grab the latest beauty fix, yet whilst still on a budget. By no means is it the greatest eyeshadow primer out there..I've heard amazing things about UD's primer potion but for now, this will suit me fine.
No7 Shadow Palette in Good Earth
This trio is perfect for the very subtle smoky eye! I used the palest shade as a highlight and began my eyeshadow using the middle, slightly metallic colour. I find like many brows it suits blue eyes, however neutral colours are universal and would suit any colour of eyes out there.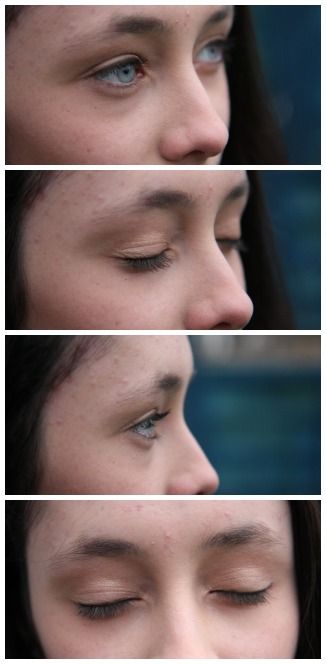 Revlon Quad in Decandent
I forced kindly asked my Mum to kindly pick this up for me when she went to America last October. I know they sell them here in the UK, but being me I couldn't pay £8 for a tiny quad, when I believe that you can buy much more for a smaller price *cough cough* - MUA palettes. I love them. I topped up my look using the golden colour and patting it on with a flat brush, then blending it with the darker brown from No7 for my crease.
Bourjois Liner
I'm not someone that's incredibly into eyeliner, I find liquid eyeliner to be more appealing however I am so bad at application that I tend to edge away from it. I love the subtle colours this liner provides, a gentle bronze and a darker brown that once again would suit a plethora of eye colours. The consistency is somewhat smooth and soft, so doesn't tug when applying.
Avon SuperCurl Mascara
As someone who doesn't really understand the hype of mascara (crazy, I know), I rarely find a mascara that seriously impresses me. I got this as a freebie from a magazine last year, and I adore it. It really does curl my eyelashes, separating them and removing clumps and holding in place for hours.
Nivea Milk & Honey Lip Balm
This is my all time favourite lip balm, which is quite frankly a huge statement. As much as I enjoy devouring my time smelling fruity and tinted lip conditioners, this one is ideal for everyday with it's clear colouring. It smells absolutely gorgeous and does give a milky moisturising texture. I think I have about three of these in my house alone; I've converted my Mum too. Massive approval.
Sleek's Face Contour Kit in Light
I don't see why you'd want to use anything else for contouring. The bronzed colour is not orange, like many other drugstore bronzers. Alternatively, it is slightly darker but when applied with a light hand can look really lovely. I personally avoided using the highlighter for this look, as I was pining for ~natural chic~ but on fancier occasions my cheekbones glow with the stuff. Seriously.
Benefit Posietint
Once again, a magazine sample from Benefit. I've had this quite a while now, and I use it when wanting pink stained lips, but without the texture of a lipstick. I love how this doesn't need top-ups, and has wicked staying power. I wish I could afford the full-size, but alas at around the £20 mark I'll just have to keep my sample size safe and sound. I think it's brilliant for a casual, natural look like this one; a sort of lips-but-amplified effect.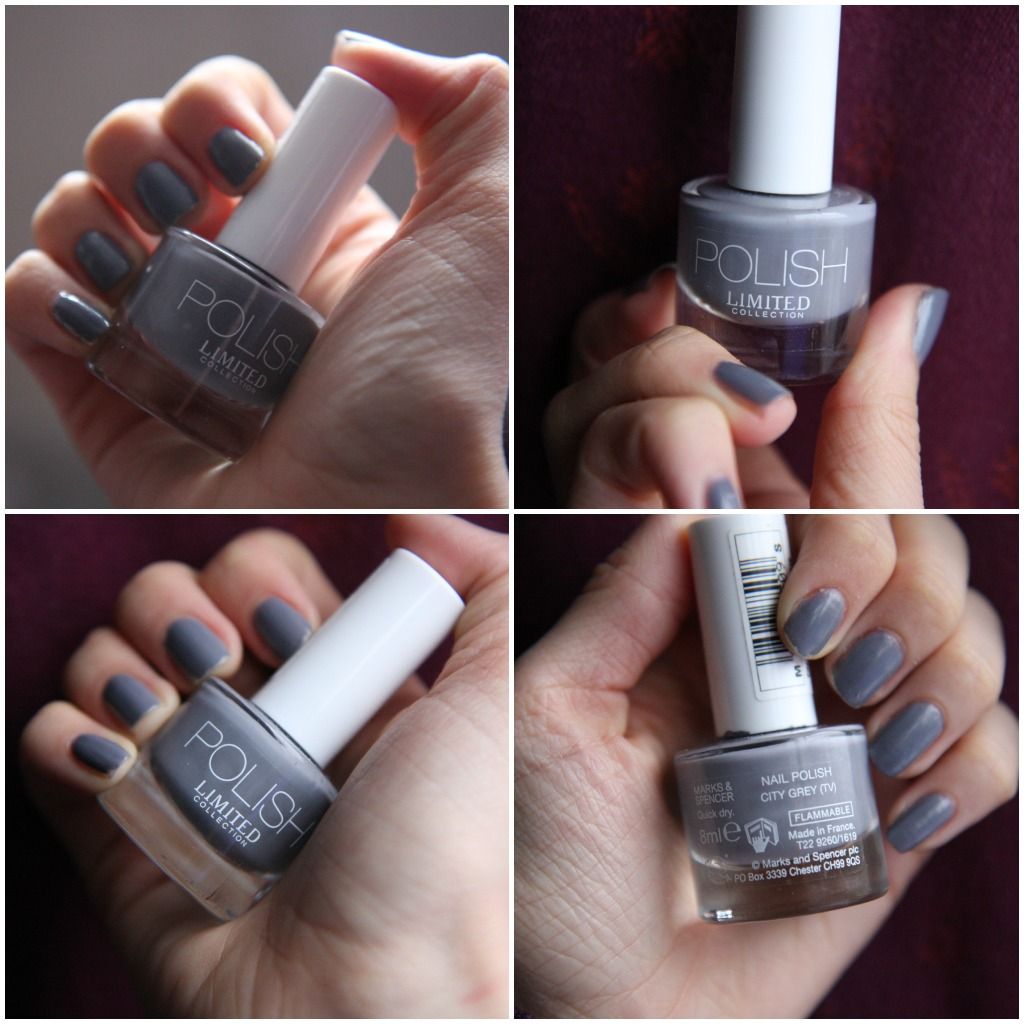 I've talked about this nail polish on my blog recently; I've been really loving grey as a nail colour for this never-ending Winter season. On the chipping front it's not extraordinary, but this doesn't bother me as due to school restrictions I can only wear nail varnish on the weekends. Anyone else have a similar problem?
So there it is, all of the products used and in order of usage. I hope this may have convinced you to nip over to Boots and make any sneaky purchases (Bourjois foundation, I'm looking at you...) I also hope you've enjoyed my look-come-review post, and I'd love to see you over at my blog. Cheers to Kim for letting my write to you all!
Thalia
Thank you to Thalia for a lovely post! Don't forget to check out her blog :)
If you'd like to guest post for Kimtopia, please drop me an email