October saw a flurry of new products quickly becoming my new favourites but in a bid to cut down my stash, I've rediscovered a couple of old favourites too!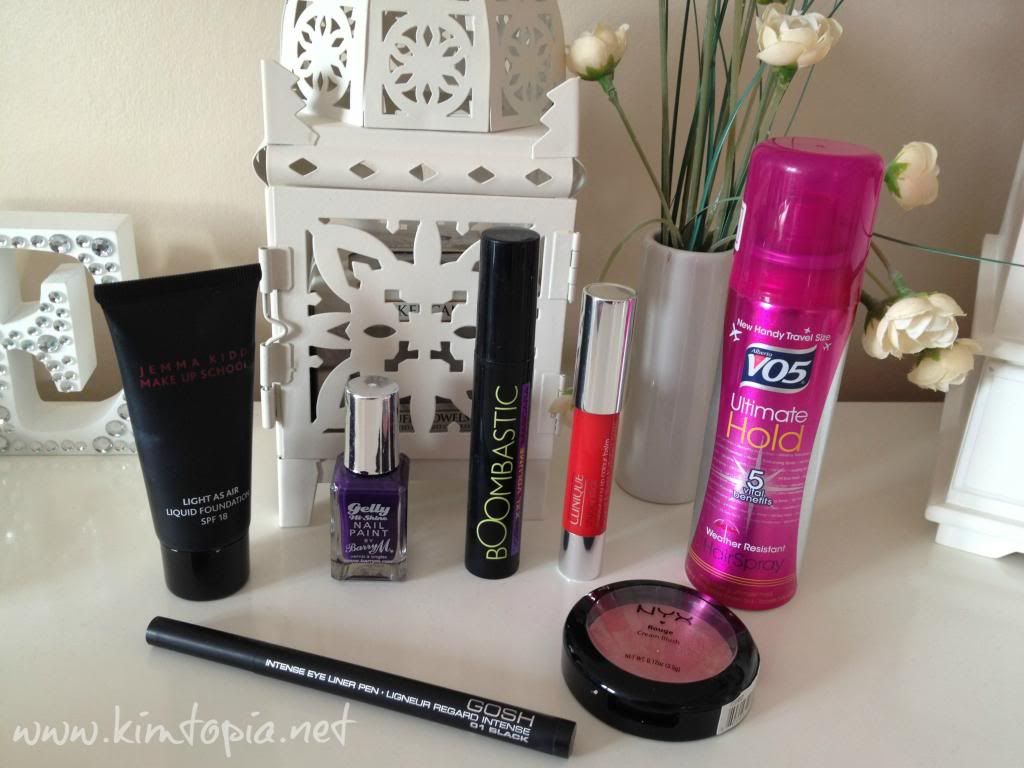 ♥ Jemma Kidd Light As Air Foundation
Lately the weather is up and down and my skin with it. What better to use than a reliable foundation. I'd forgotten I had Light As Air to be honest, despite me raving about it when I first discovered it. What a fickle Fiona! On my not so good skin days or when I feel like I've needed extra coverage, I've been reaching for this foundation. It's a shame about the Jemma Kidd range, but I hope she finds new investors soon so we can all get our mitts on this foundation again.
♥ Barry M Gelly Hi-Shine Nail Paint in Blackberry
Oh girls, I'm in love. With this polish. I can't stop applying it. I've used this in consecutive manis lately. And trust me, this never happens. It is unheard of. Well, I did say I was a fickle Fiona. Blackberry is a beautiful dark purple with incredible staying power. My first mani lasted 6 days without chipping. For me that is amazing. And the colour goes with everything. Absolutely everything. Its my A/W polish of choice.
♥ GOSH Boombastic Mascara
I hadn't used a GOSH mascara in quite some time until
Leanne
gave me this. I was a bit sceptical when I saw the chunky tube because this usually means humongous brush that clumsy Claudia here will poke her eye out with. Just for the record, I don't recommend it. It freaking hurts. If any of you have tried the Avon Supershock Mascara, then the brush is similar to that. The mascara itself is quite good. It coats all of my lashes defining and adding volume and length. The one thing that niggles me a teeny bit is the consistency. It reminds me of Urban Decay Curling Mascara as its quite sort of 'wet' for want of a better word. I always manage to get it everywhere. What a messy pup.
♥ Clinique Chubby Stick in Two Ton Tomato
This is my go to lip product. Simple make up, slick of black liner and this on the lips has become my
usual look
lately. It's a lipstick/lip balm hybrid with a fabulous staying power. It applies easily, is well pigmented and has a great texture. There are quite a few more that I'm eyeing up too! And with the Chubby Stick Intense range launching this month, I suspect a few of those will end up in my collection too.
♥ VO5 Ultimate Hold Weather Resistant Hairspray
I've always had a love/hate relationship with hairspray. I'd hate the smell, the way it left my hair feeling, the way it covered everything in a film and that it would never survive inclement weather. But I loved the way it'd tame my hair and keep my style looking good. I picked this up on a whim after I saw a fellow blogger mention how good this was. I'm a fan of brand in general so I had no hesitation in dropping it into my shopping basket. I'm pleased to say, the scent is not offensive, it doesn't leave my hair feeling horrible and my hair survives this wintery weather. Hurrah!
♥ NYX Cream Blush in Glow
Cream blushes are the one thing that I can rely on when I'm in a rush. They give a lovely effortless finish to my cheeks and I can never over do it thanks to easy way they blend into the skin. I remember when I first bought this, I barely used anything else. I tidied up my make up drawer a few weeks ago and I found this lingering at the back. I've fallen back in love. The teeniest dab of this gives me such a natural flush of colour that really perks me up. I'm holding out for the
Cherry Culture
sale in late November when I can pick up some more NYX products.
♥ GOSH Intense Eyeliner Pen in Black
This is another item that I must thank
Leanne
for. I was a bit of a wary Wanda when I opened it. I've never gotten on with these marker pen type liners. I pushed my doubts aside to give this a try. I'm so glad I did. This liner is a true black, easy to apply and very long lasting. I've actually found it a lot easier to do my eye liner using this lately!
♥ ♥ ♥
Are any of your favourites here? Tell me which items you've been loving this month :)