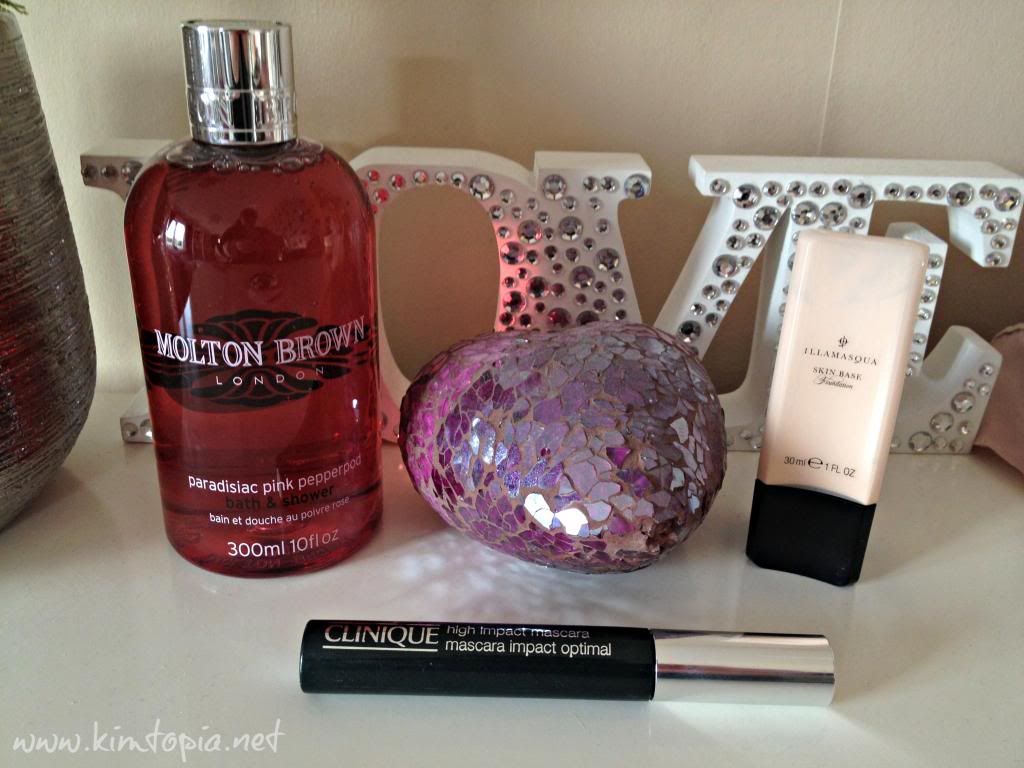 A few days ago I popped up to Meadowhall to finish my Christmas shopping. And as always I ended up treating myself - please tell me I'm not the only one that does this? I was incredibly restrained considering the offers that were running and I picked up these fab faves:
♥ Molton Brown Paradisiac Pink Pepperpod Bath & Shower Gel ♥
Gosh that's a mouthful! I first mentioned this in a
review post
and I've finally gotten around to purchasing a full size bottle. I think I love this so much because it's not stereotypically girly. Pink Pepperpod has got a deliciously intoxicating scent that lingers on your skin for hours. I adore it. I nearly bought the matching body lotion after testing it in store but resisted. Just about. Its definitely on my shopping list for my next visit!
♥ Clinique High Impact Mascara ♥
I remember having a sample of this a long time ago and I used to take it everywhere with me and use it religiously every day. That spoke volumes to me when I was trying to figure out which mascara to purchase next. I duly parted with my money, took it home, and threw out all my other mascaras because I was convinced I'd found the one. Having used it for a week and a half, I'm trying to remember exactly why I loved it in the first place. Its nice and it does the job but it just isn't wowing me. My new Liz Earle Mascara seems to be new favourite. More to follow, watch this space.
♥ Illamasqua Skin Base ♥
Skin Base was the first higher end foundation that completely wowed me and made me realise it was worth every single penny. And when we're talking £25 a bottle, thats a lot of pennies. I've fallen into a foundation rut lately, bored of the formulas I have, loving each one a little less as the days go by. I'm becoming a fickle Fiona in the foundation stakes. I can't fault the formula of Skin Base. It applies well, its a good colour (Casper shade #02 if you're wondering), it evens my skin tone, hides blemishes and imperfections without feeling or looking heavy. And blimey does it have staying power. Sans primer. Colour me impressed.

♥ ♥ ♥

Have you treated yourself lately?