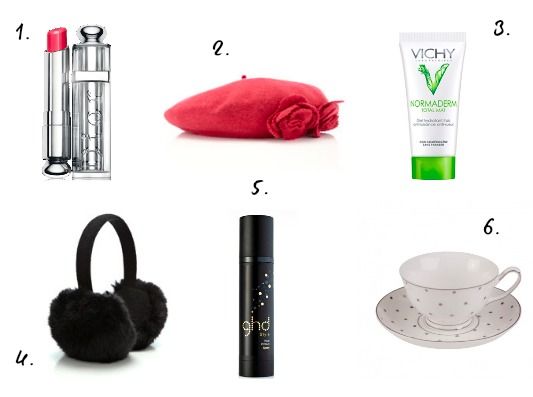 1.
I'm slowly branching out into the world of red lips and I'm loving a more sheer look rather than a full on statement lip. After seeing New Look on
Lilit's blog
, it quickly found its way on to my wishlist!
2.
I am loving red lately and after my purchase of my numero uno wishlist item from l
ast week
, I need a matching hat of course. May as well look all chic in my winter attire, non?
3.
I've decided I need a decent make up primer and after seeing
Leanne's post
I think I need to get my mitts on it.
4. It has been perishingly cold here of late and in the spirit of wrapping up warm, I've decided I need to regress to my childhood and have some stylish black ear muffs in my life.
5. I used to use this when I first purchased my beloved GHDs. It made protected my hair whilst making it smell amazing. A bottle lasts for ages and I really miss it. I've seen it appear in a few blog posts lately and I think I need it back in my life!
6. After my most recent spur of the moment purchase of a Tassimo machine, I've decided I need some beautiful cups to serve my beloved hot beverages in. Bombay Duck have hit the nail on the head with this beautiful range.
♥ ♥ ♥
Are you lusting over anything particular this week?