I seem to have my creative nail hat on at the moment! I've tried something new and went for an Aztec design on a pastel base and I really loved the results.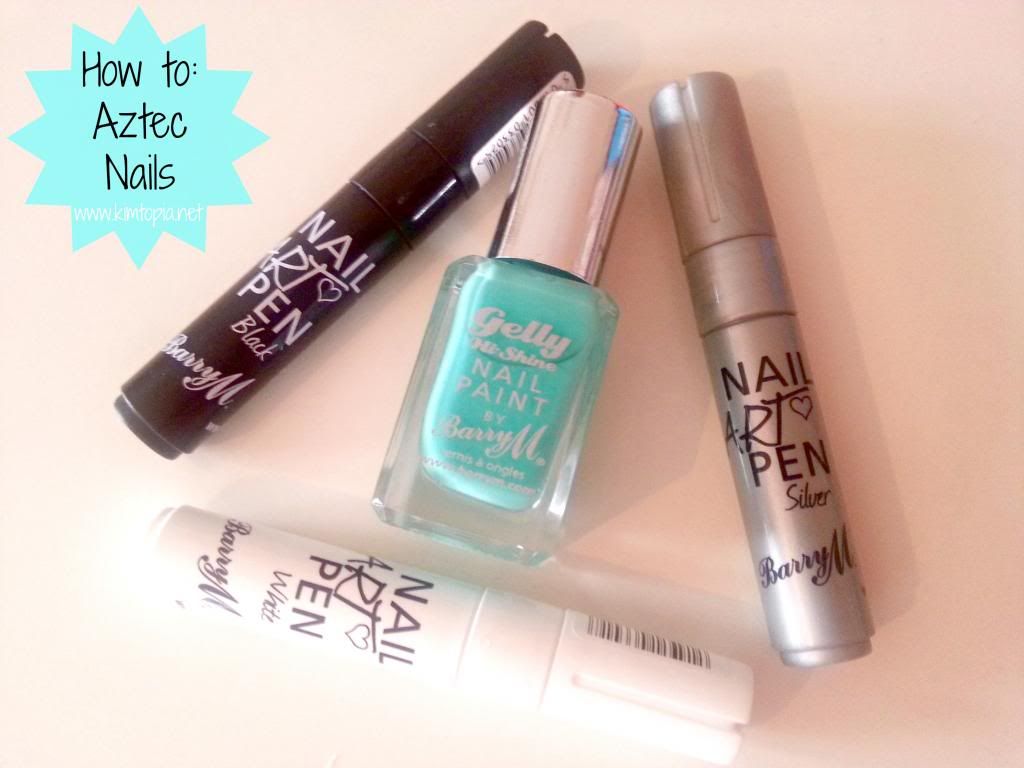 So many people have said to me that this design looks really hard and must have taken a lot of patience. I didn't find it difficult thanks to Barry M's fab nail art pens, but time and patience was most definitely needed!
Here's a simple step by step of how I created my Aztec themed nails:
001. Start with a base coat. I used China Glaze Strong Adhesion Base Coat.
♥
002. Paint your base colour. I used two coats of Barry M Gelly Hi Shine Nail Paint in Greenberry.
♥
003. When your base is completely dry, use the Barry M Nail Art Pen in black to create three lines. The first should be about a third of the way down the nail (imagine if you were creating a freehand French manicure and where you'd want the white part of the nail to end). The second should be two thirds down the nail and the third should be half way between that line and the end of your polish.
♥
004. Fill in the tips of your nails using the same nail art pen.
♥
005. Whilst that is drying, create the zigags at the base of the nail.
♥
006. Take the silver nail art pen and fill in the space between the two black lines toward the base of the nail.
♥
007. Now take the white nail art pen and create dots before the section you have just filled in.
♥
008. The tips of your nails should now be dry so take your white nail art pen and create zig zags and dots. You could do stripes or diagonal lines - whatever takes your fancy! If you're looking for inspiration there's tonnes of amazing ideas with a simple
Google Images search
.
♥
009. Give your nails time to dry then seal with a top coat. I used China Glaze Fast Forward Top Coat.
Et voila! Simples!
♥ ♥ ♥
Have you tried Aztec design before? If so, send me your links. If not, will you be giving it a go?