Morning :)
This is the first of two Cellnique product reviews today. I hope you find them useful.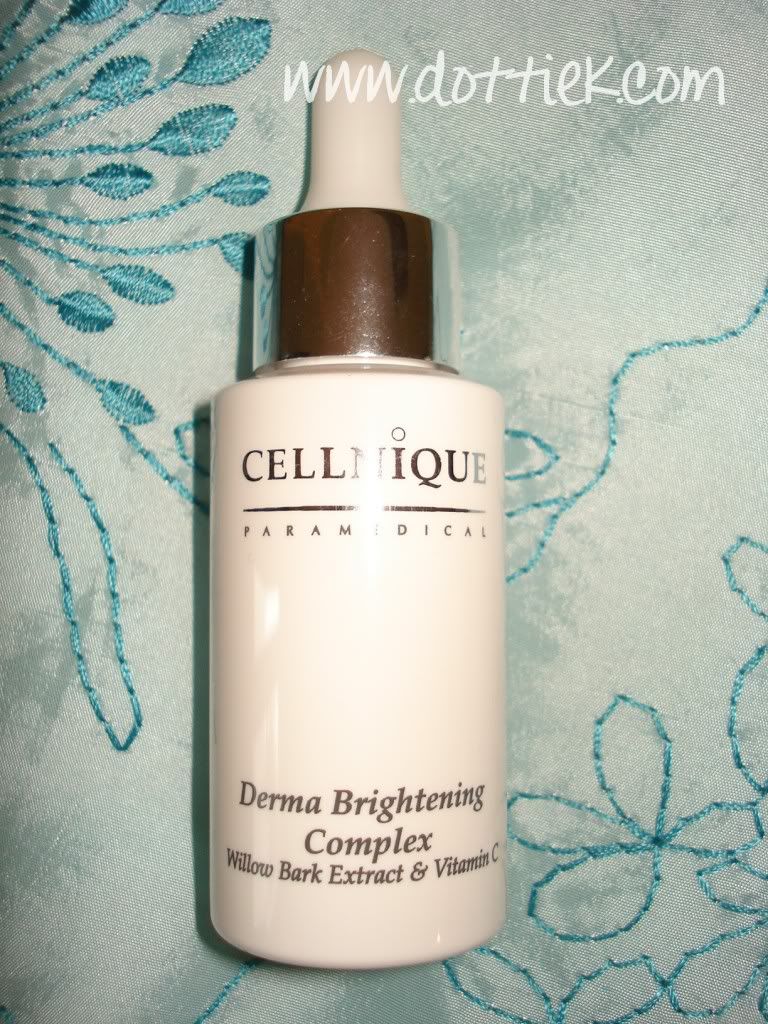 Cellnique say
: Derma Brightening Complex helps prevent skin hyperpigmentation while restoring its natural, luminous glow. Infused with lipsomal Willow Bark Extract and Vitamin C, this strongly effective yet gentle formulation works to suppress melanogensis, while facilitating the cell renewal process. Restores skin's luminous glow without provoking skin irritation or peeling. Unprecedented clarity radiates from within. Excellent for all skin types including sensitive skin, pre and post operative skin, users can expect highly satisfying results after a short period of application.
I say
: My skin has always been sensitive and I've found that the Derma Brightening Complex hasn't irritated it at all. I actually found it quite soothing. With regular use I've found that my skin is softer and brighter and I seem to have combated Winter dullness!
Cellnique say
: Use day and night after cleanser, toner, eye care and serum. Apply to face and neck evenly in an up and outward circular movement. The benefits include antioxidant protection for the skin; promoting a firmer skin texture; rich moisturising attributes for skin softening; exfoliates dead skin cells without provoking skin irritation; and works on skin discoloration, dull and uneven skin tone.

I say: First off, let's start with the packaging. Even before you unscrew the lid, it's obvious from the little rubber top that it's a pipette. A great idea as you can control the amount of product that you use on your skin. On to the product - the scent of the Derma Brightening Complex is sweet like honey, and really quite pleasant. It actually looks like really, really runny honey too. The liquid sinks into the skin pretty easily and you're not left feeling greasy or sticky and the scent fades after application. As it's Winter, everyone knows that skin can look a bit dull and not it's usual self. Having used the Derma Brightening Complex every day through December, I'd say that my skin does look a little better and brighter. I have noticed that my skin feels softer and my skin tone does appear to have evened out somewhat which is pretty impressive!
Price: $45.00 (Approximately £28.95)
Size: 30ml
Product: 9/10
Price: 7/10
Packaging: 9/10
Overall: 8/10
Purchase: If money was no object, then yes I probably would :)
~*~
Cellnique are offering free samples of the Derma Brightening Complex to the first 50 readers from my blog to
register
on the Cellnique website. All you have to do is pop over to the website and complete registration. When asked 'Where did you hear about us?' simply enter www.dottiek.com! You can also enter your blog URL and you may be given the chance to review products from the Cellnique range. Good luck!
T&C: Validity ends 1 week today. Samples will be delivered within 4 – 6 weeks. Substitutions of sample will be made if sample is out-of-stock.
~*~
Have you tried any products from Cellnique?
*I received this item for free for reviewing purposes from Cellnique. This does not affect the honesty of the review.*