Hello gorgeous ladies & gents!
On Thursday I went to the launch of Illamasqua's new A/W collection for 2011:
The Theatre of the Nameless
. I was intrigued by the name as soon as the invite popped into my inbox. Illamasqua never fail to impress me with the thought and detail that goes into every single thing - if you've seen their collection brochures, you know exactly what I mean, and the brochure for Theatre of the Nameless is no exception.
I knew I'd be in for a treat, such was confirmed when I stepped through the door and was transported back in time. I've always wanted to know exactly what inspired Illamasqua as their product packaging mentions that the roots of the company go back to 1920's Berlin. All was explained by David Horne, Illamasqua's Head of Product Development.

"Infused with the essence of self-expression that transformed 1920's Berlin, this rich and indulgent collection envelops the senses. Darkly sophisticated tones are accompanied by shocks of dazzling iridescence and kinky rubber-look finishes, creating a breathtakingly modern interpretation of the most illicit nightlife in history. It's time to cross the threshold and embrace a world of unadulterated decadence..."


"Descend into the riotous scene of erotic adventure that is the Theatre of the Nameless, nocturnal den of the dissident leaders of underworld subcultures. Exotic dancers rub shoulders with expressionist actors and performers; nudists and Boot Girls openly compete for the Conférencier's eye; and all participate in the Club's endless, pleasure-seeking rituals, immersing themselves in a heady world of sensual delight...
Teased by the sweet, pungent tang of opium, the air throbs with the electric shock of lovers' flesh. Dare to feel the intensity of the club's intimate caress, and abandon yourself to the glorious wonders of unfettered night-time make up."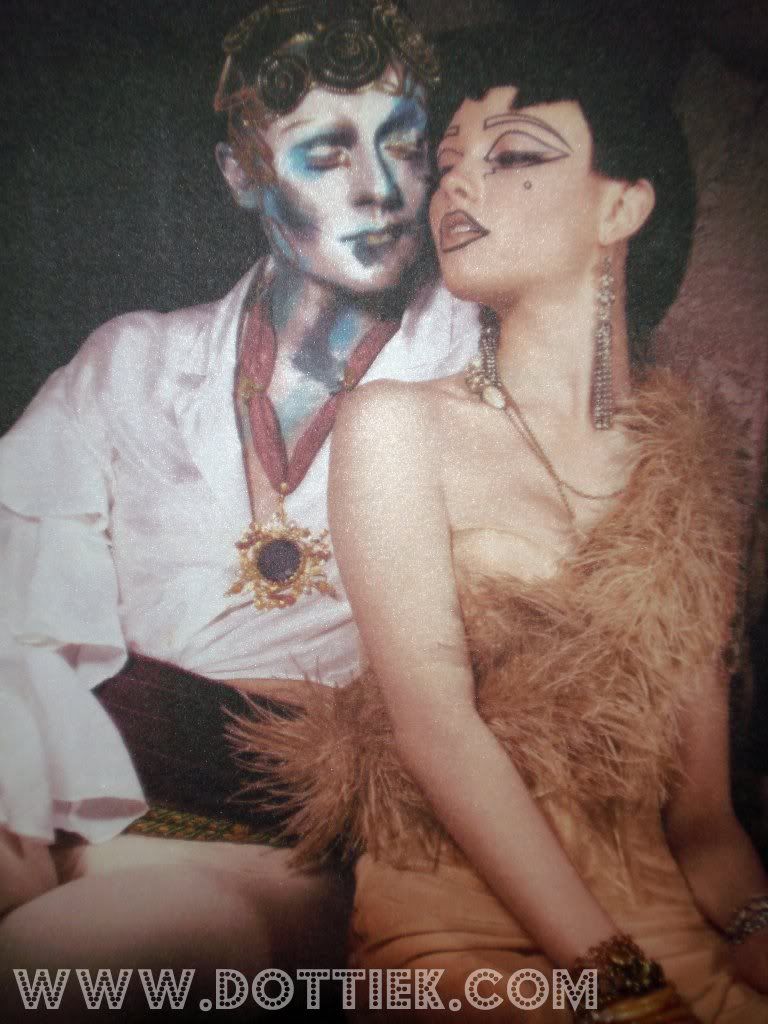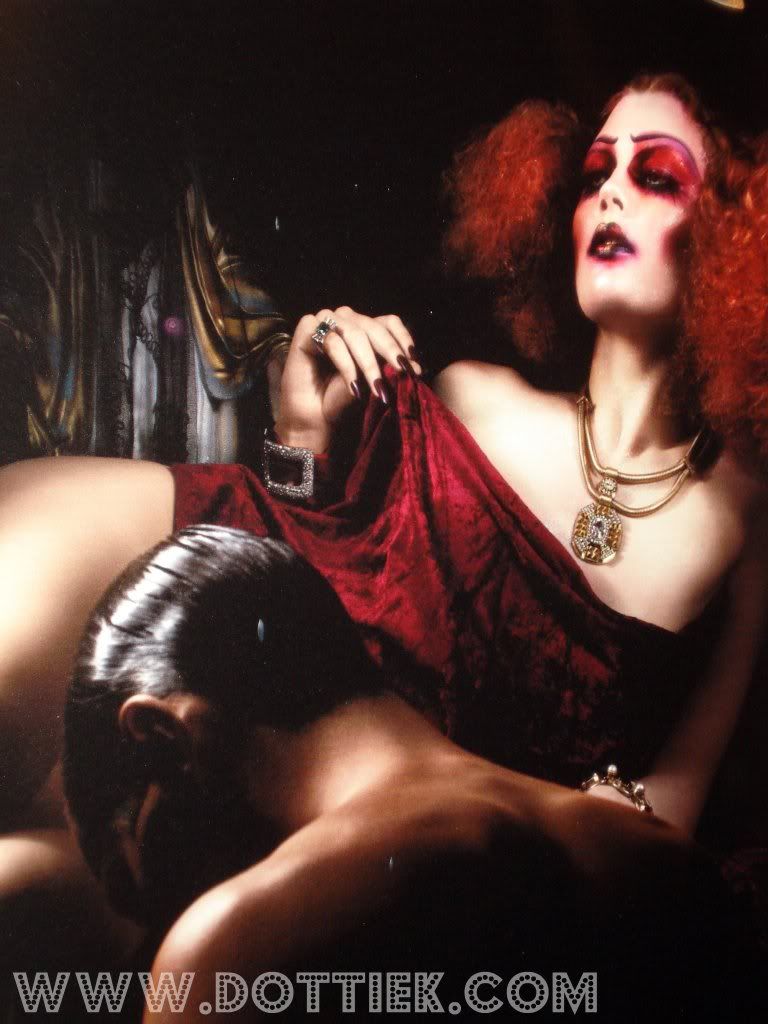 The Creative Director of Illamasqua, the wonderfully talented Alex Box describes Theatre of the Nameless as "a heady mixture of opulent hues, decadent pigments and fearless application. A bruised and burnished pallet that gives a sensual slip that bleeds colour into colour, worn through and kissed off."
The Theatre of the Nameless as a collection is inspired by Anita Berber, a German 1920's performer, writer, dancer and woman of the night. Her public appearances challenged the taboos of the time. Anita was iconic with her bright red hair and theatrical make up. As you can see below, Anita Berber's famous look was recreated on a beautiful actress, who looked absolutely fabulous. I adored everything about her make up.
I love history, and have always loved the style of the 1920's, so I found the history behind the Theatre of the Nameless collection absolutely fascinating. Maybe I'll try to recreate this look or do an Anita Berber inspired look.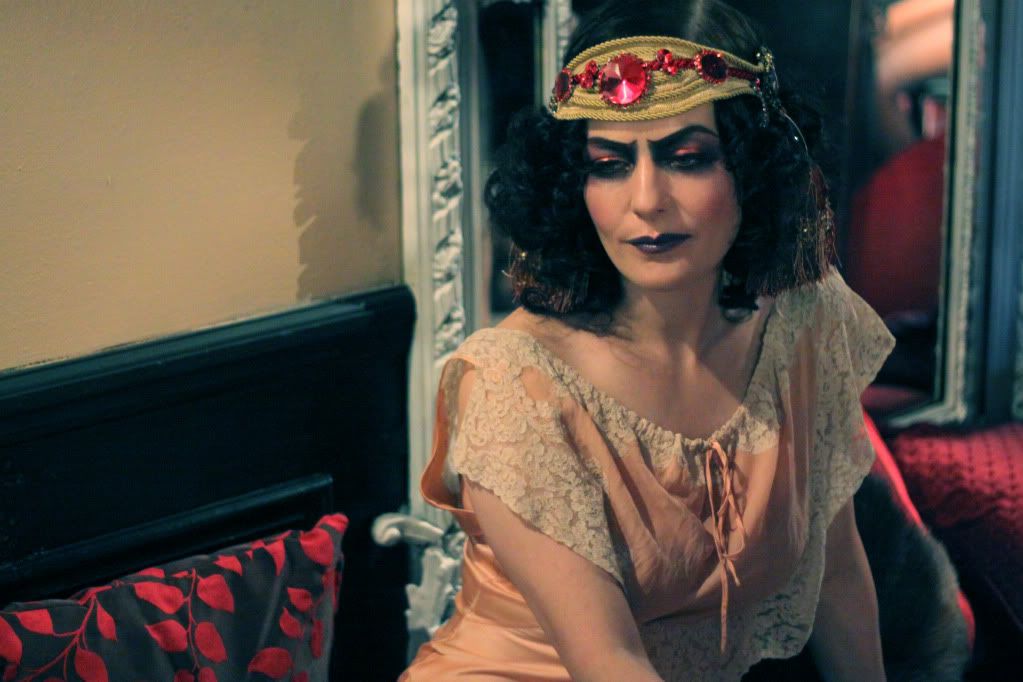 Below is 'Anita Berber' with another actor made up to look like Anita's lover, Sebastian Droste, someone else who pushed the boundaries in 1920's Berlin.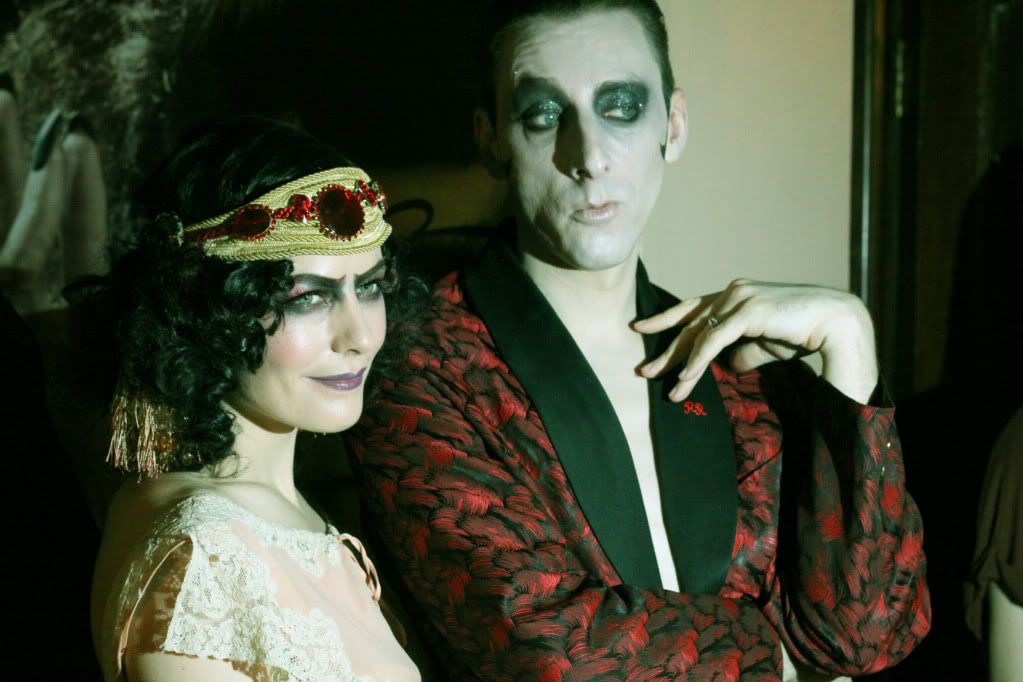 The above two images are courtesy of the fabulous Zoe from
The London Lipgloss
- thank you Zoe! ♥
Theatre of the Nameless Products
Shimmer Blusher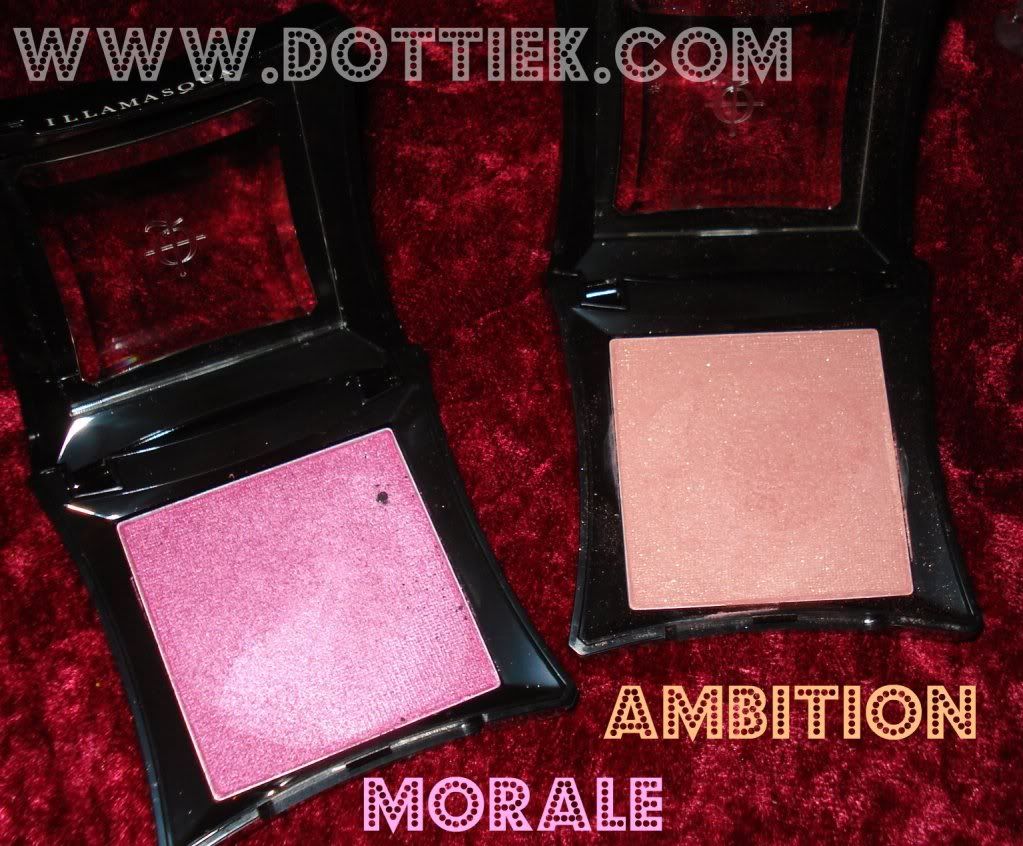 Illamasqua's very first shimmer blushes add a rich radiance to the face. Morale is a beautiful shade of roused flush pink with a stunning sheen and Ambition is a lovely neutral.
Rubber Polishes
Taking a lead from the
colour-coded specialities
of the Wittenberg Platz's domineering Boot Girls, Illamasqua introduces confident new shades, in a brazen display of utter indulgence, The Theatre of the Nameless proudly parades a kinky new waxy "rubber look" finish to Illamasqua's hardwearing, chip-resistant nail varnish.
Here they are modelled on
Leanne's
talons!
L-R: Faux Pas - Blue Violet, Vice - Deep Cerise, Kink - Bottle Green and Taint - Stone Brown
False Eye Lashes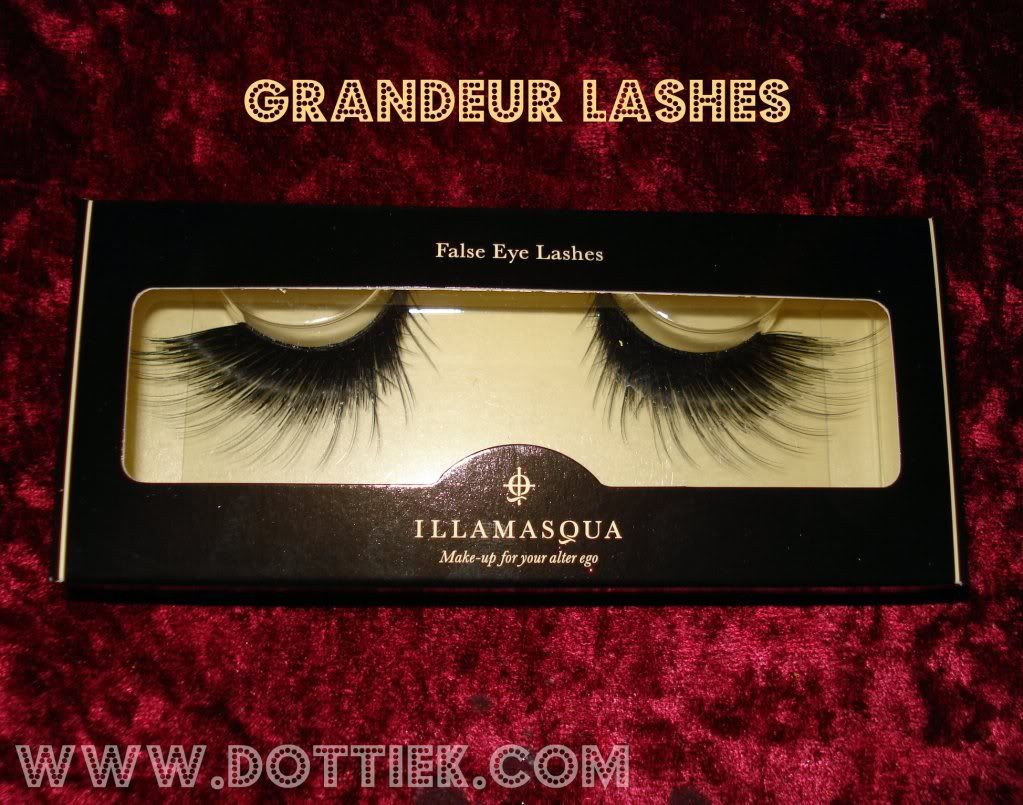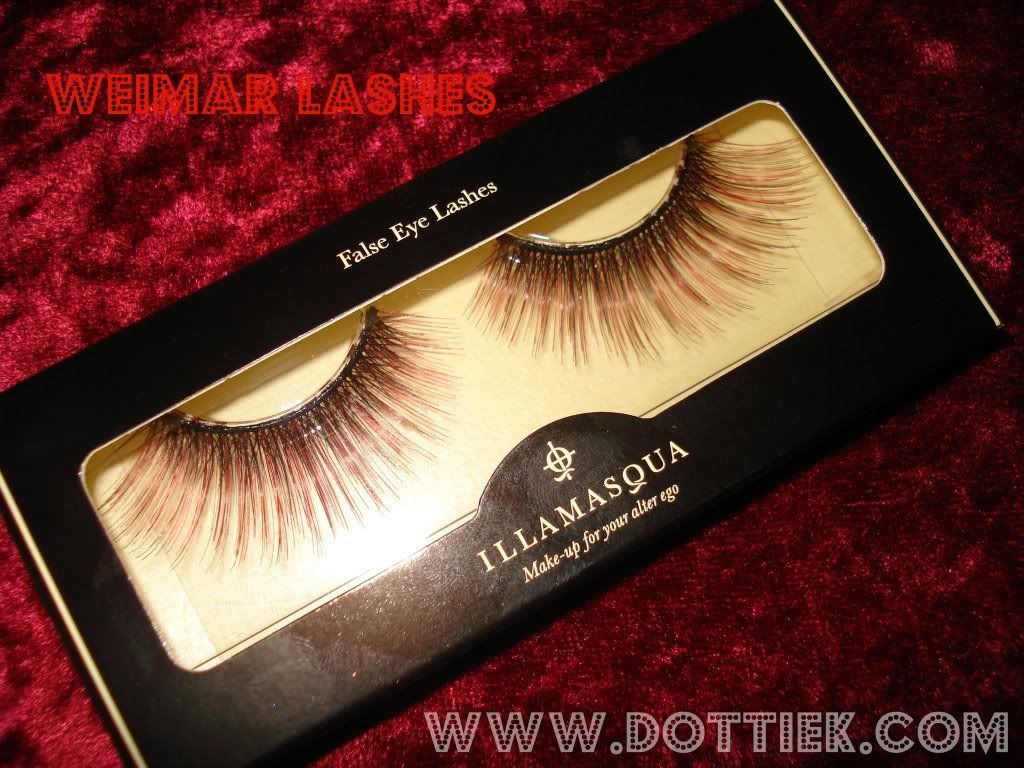 To add drama to any look, false lashes are a must have, and Illamasqua have produced two new sets of lashes that exude luxury and extravagance. The Weimar lashes which are black and auburn are limited edition with only 500 pairs in existence, so snap these up now if you want them!
Pure Pigment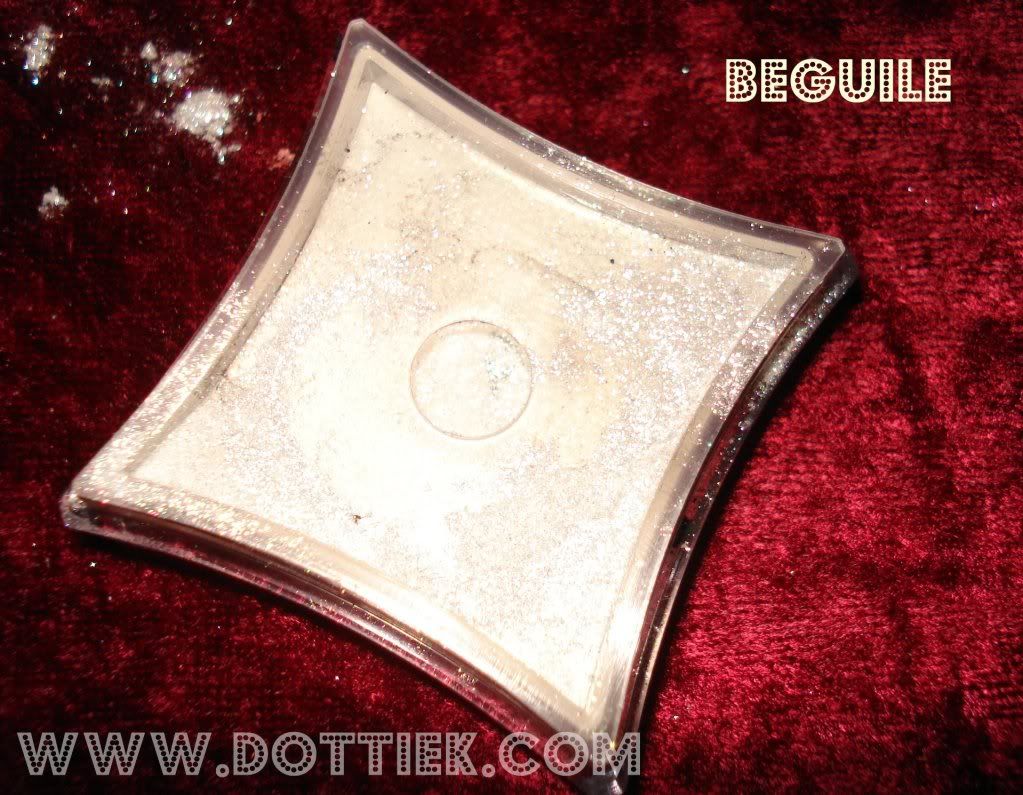 The light wasn't the best and I only managed to photograph one of the pigments, but all three are swatched below. This is Beguile, the most beautiful light shimmer you will ever see. If you think you recognise it, it's very similar to Static Pure Pigment. The other two pigments in the range are Zeitgeist, a rich dark black shimmer, and Berber, named after Anita herself of course which is a STUNNING auburn rust coloured shimmer. Needless to say I had to order this as soon as the collection came online!
Cream Pigments
Following on from the success of the cream pigments introduced in the Toxic Nature collection, Illamasqua have made two brazen new shades, Depravity - a gorgeous magenta shade and Androgen - a beautiful coral shade. These are incredibly versatile products and can be mixed with pure pigments. The possibilities are endless. David mentioned that Androgen is also one for the men - named after a male hormone - and can be used to cover five o'clock shadow!
Lipgloss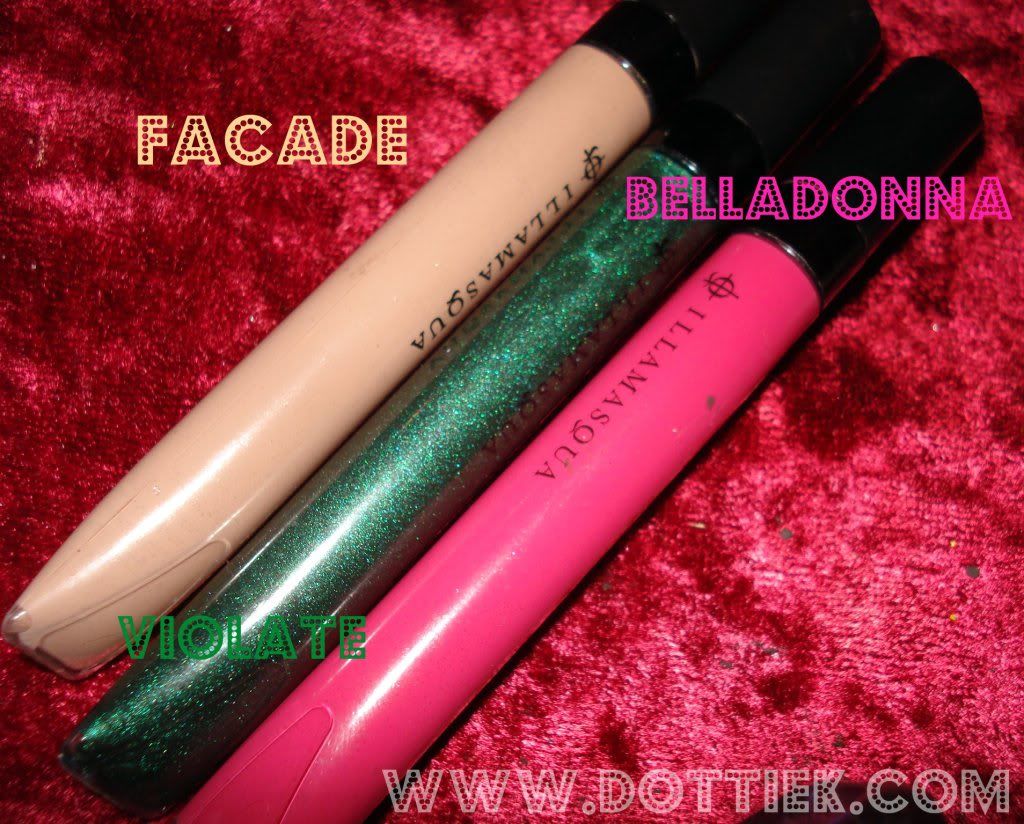 There are three new glosses in this collection, Facade - an Intense lipgloss in grey pink, Violate - a Sheer lipgloss in the most beautiful dark green shimmer, and Belladonna - a bright pink toned red.
Swatches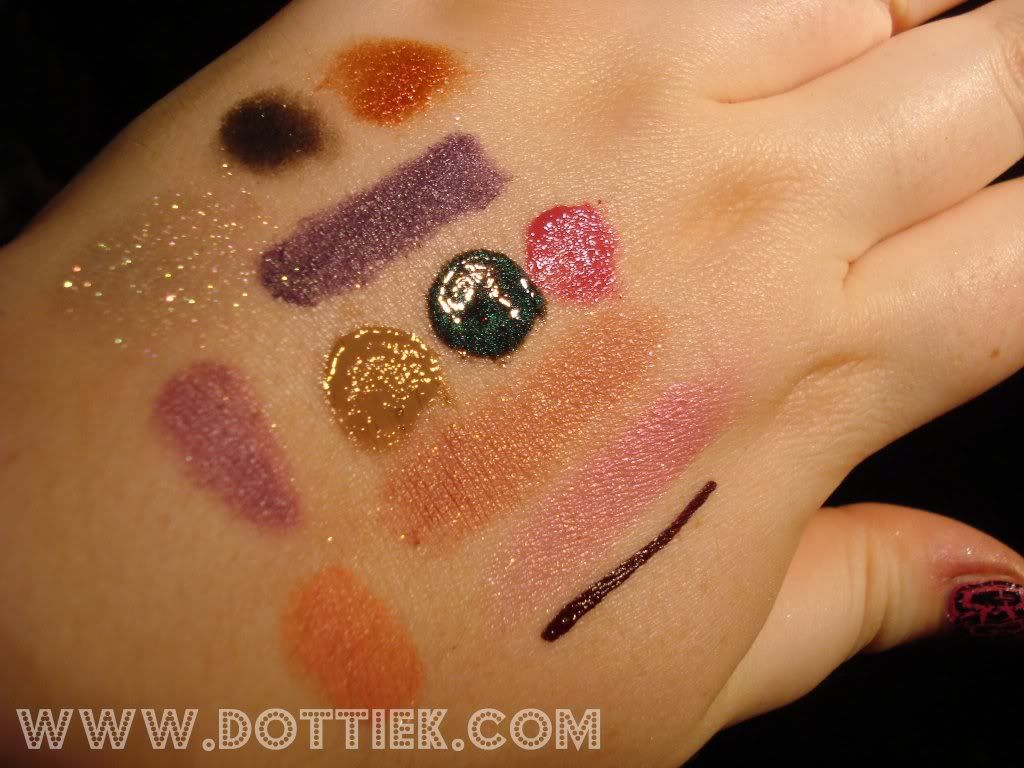 Top row, left-right: Pure Pigments in Beguile, Zeitgeist and Berber
Underneath - Kontrol lipstick
Middle row, left - right: Depravity Cream Pigment, Lipglosses in Facade, Violate and Belladonna
Underneath - Ambition Blusher
Bottom row, left - right: Androgen Cream Pigment, Morale Blusher
Underneath: Havoc Precision Liner (Aubergine)
Gift Bag
The Illamasqua team were kind enough to make us all personalised gift bags with a few products to try for ourselves at home
The envelope contained a thank you note and was sealed with an Illamasqua branded wax seal which I thought was a great touch and tied in with the polish finishes as David Horne explained they look like a candle wax finish - spot on!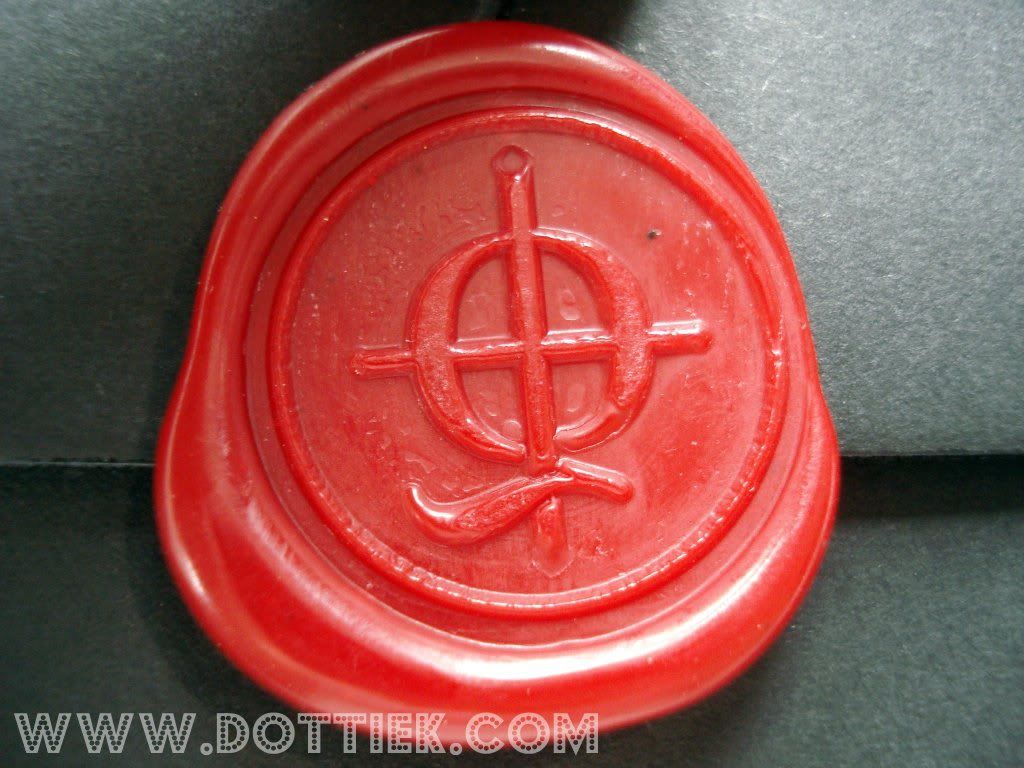 Kink nail polish
A beautiful bottle green polish that has a finish like that of candle wax. Interestingly, the Boot Girls' green boots signified psychological enslavement.
Beguile Pigment
Beguile was made to look like water, and with plenty of it swirling around the room and catching the light on Thursday, I can say Illamasqua have hit the nail firmly on the head. I can't wait to use it!
Kontrol Lipstick
Kontrol is a colour intense lipstick with a highly pigmented formula in a dark, sultry and powerful shade of Blue Violet. I'm looking forward to trying this out!
~*~
I've since ordered Faux Pas polish, Berber pure pigment, and the new Masquara. Having had a conversation with some other Illamasqua lovies - Leanne & Zoe I'm looking at you two! - I think I also need Zeitgeist, Morale and Androgen in my life. Goodbye wages ;)
♥
The Theatre of the Nameless collection is available
online
now and is available in store from September 8th.
I'd like to say a huge thank you to Illamasqua for inviting me, and for putting on such a lovely event :)
♥
What are your thoughts on the collection? Has anything tickled your fancy?