Following the incredibly successful launch of the Precision Foam Colour range back in November last year - remember me singing their praises? -
John Frieda
were inundated with positive responses along with requests for new shades. The colour experts at John Frieda love a challenge, so they subsequently developed six new shades to expand their already fabulous collection.
Recently I had the opportunity to try one of the new shades. I'd been toying with the idea of going red for a while, and as the festive season dawns, I opted to go for 5RV Medium Burgundy. I've used Precision Foam a few times before and have absolutely loved it so I was intrigued to see what Medium Burgundy could do for me. Let's take a look shall we?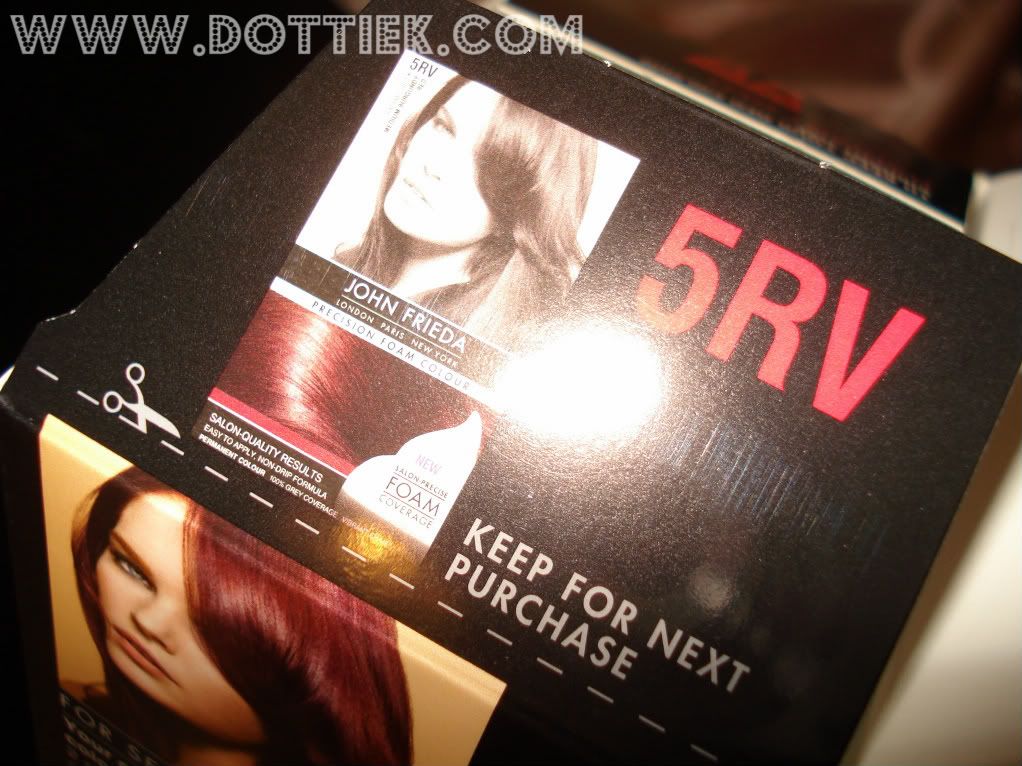 The packaging is pretty nifty as it tells you how easy it is to use the product, which shade you are so you can keep a reminder in your purse for that next repurchase, and also tells you which products to use to help maintain your colour.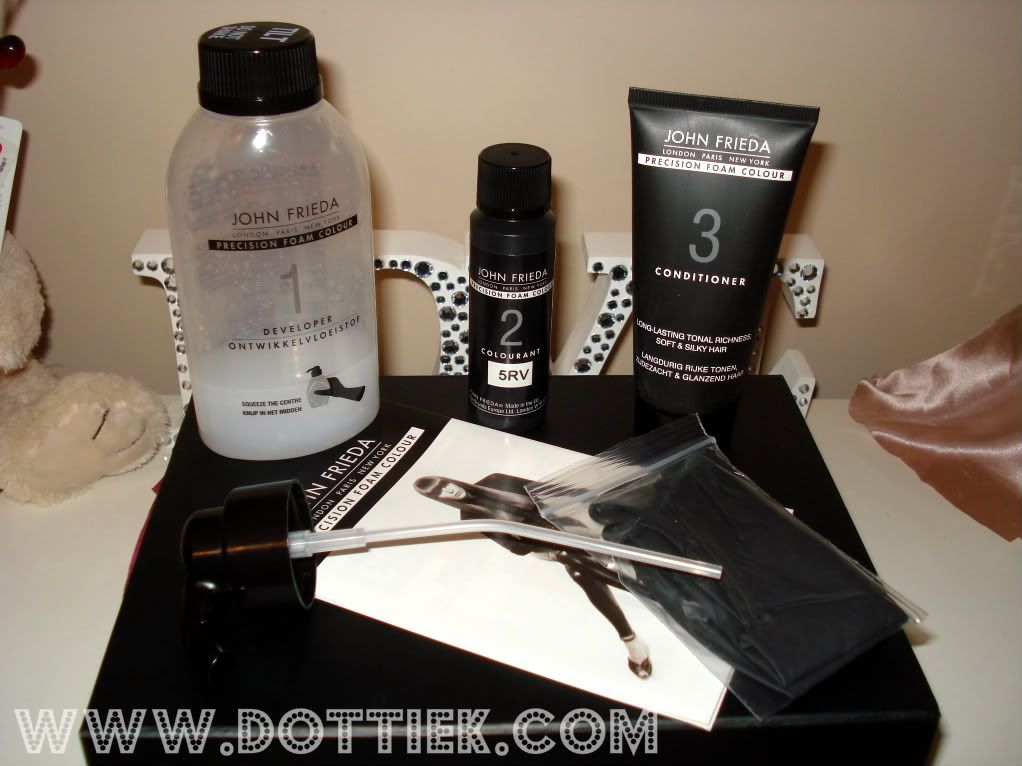 Kit contents clockwise from top left
: Developer, Colourant, Conditioner, Gloves, Instructions, Foamer
John Frieda say
: This revolutionary, non-drip foam covers every strand perfectly, so you are assured of shiny, natural-looking results.
I say
: Precision Foam Dye can be used for all over colour or root application. I was using it for the former but the instructions give directions for both types of application which is useful. It does exactly what it says on the box. Application was easy, development was quick, leaving me with a gorgeous, flawless all over colour.
John Frieda say
: No need for complicated application tools or help from friends. This unique foam spreads quickly and easily, flawlessly covering the hard-to-reach hair on the back of your head, roots and hairline. Precision Foam Colour allows you to achieve the same salon-precise coverage that you would receive from a professional colourist. Our nourishing, after-colour conditioner seals in colour fot long-lasting tonal richness, while keeping hair soft and silky.
I say
: Follow the instructions in the booklet and you really cannot go wrong. If there was a comedic manual about hair dying for dummies, this product would be featured, it's so simple to use! Foolproof I promise! For me, Precision Foam Dye has revolutionised the way I dye my hair. The only thing that took a while was rinsing my hair. My bath looked like a crime scene from an episode of CSI! Other than that, I found this ridiculously easy to use and the fact that this foams means that it really reaches every strand so you don't end up with patchy colour. The ammonia smell that is part and parcel of most hair dyes isn't so bad with this, although more noticeable with this colour than my previous one. Maybe that's the formula. You may have seen me mention on Twitter that I loved the conditioner that comes with Precision Foam Colour. My hair was left silky soft and smooth. And it smells amazing to boot!
Adding the colourant to the developer
This is what the dye looks like when the colourant has been added to the developer. Before you get started with the dying process, a handy tip is to put a water resistant gel like Vaseline around your hairline - don't forget your ears! - so that any dye you get on your skin (trust me, this WILL happen to you) comes off easily :)
After tilting the bottle 5 times your dye should look like this
Add the foamer and you're ready to begin!
A single squeeze of the bottle will produce this amount of foam which is perfect to start with. I know it doesn't look red, but it does go darker the longer it's in the bottle :) Time to apply!
Follow the directions until you end up in this attractive state below. You can just about see the amount of dye I got all over my face. But thanks to Vaseline, it came off with a simple wipe :D I left my dye on for 20-30 minutes which was a bit longer than the instructions say for all-over colour but I wanted to ensure it really covered my dark hair.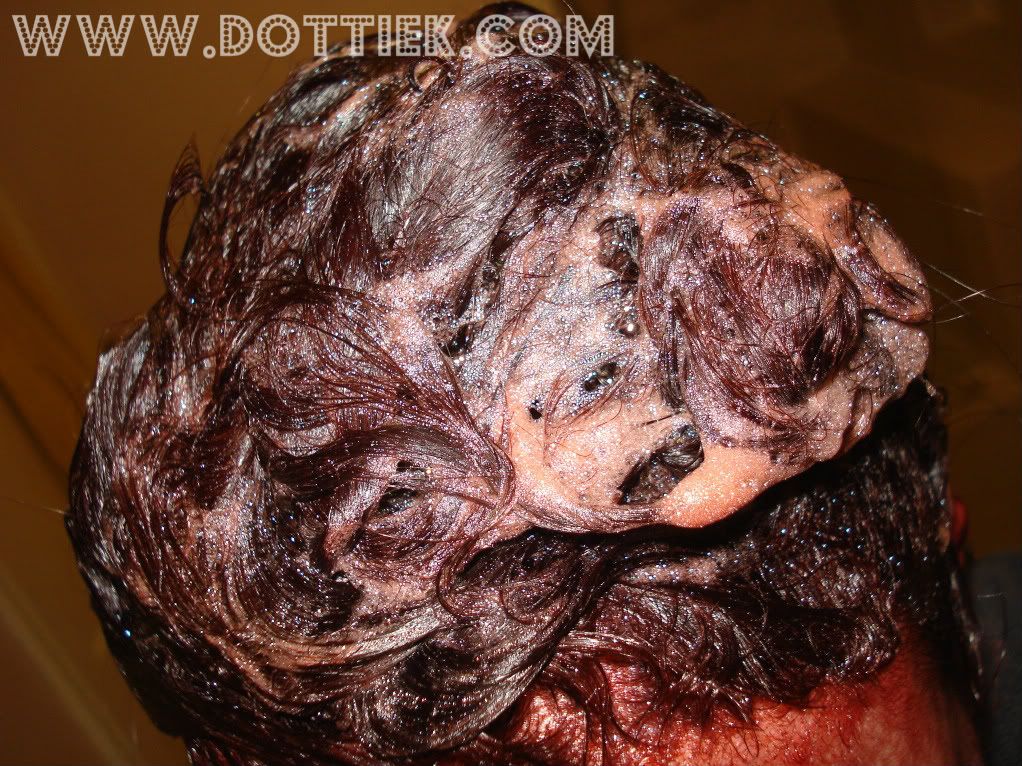 The results
My hair was dark brown to start with, the last dye I used was John Frieda Precision Foam in 3N Deep Brown-Black. Medium Burgundy turned my hair this gorgeous shade:
For other shots of my hair, check out my birthday
FOTD
And if you still don't believe that it's this easy to achieve gorgeous red hair, check out the John Frieda video below which as you can see is slightly more glamourous than my photos ;)
Price
: £9.99 but can usually be found on offer in Boots/Superdrug/Tesco - it's buy one get one free in Superdrug right now!
Available from
: Boots, Superdrug, Sainsbury's & Tesco
Product: 10/10
Packaging: 10/10
Price: 8/10
Overall: 9/10
Purchase:
Absolutely!
♥
Fancy winning one of the new shades? Pop on over to the
John Frieda Facebook page
to like them and then enter the Selected By You prize draw where you could win one of 100 boxes of each colour. It ends on Monday, so what are you waiting for?