Hello!
A few of you expressed an interest in my finding out more about my skincare routine that I started at the beginning of the year. It's had a great impact on my skin and it seems to be a lot clearer so it's certainly working so far!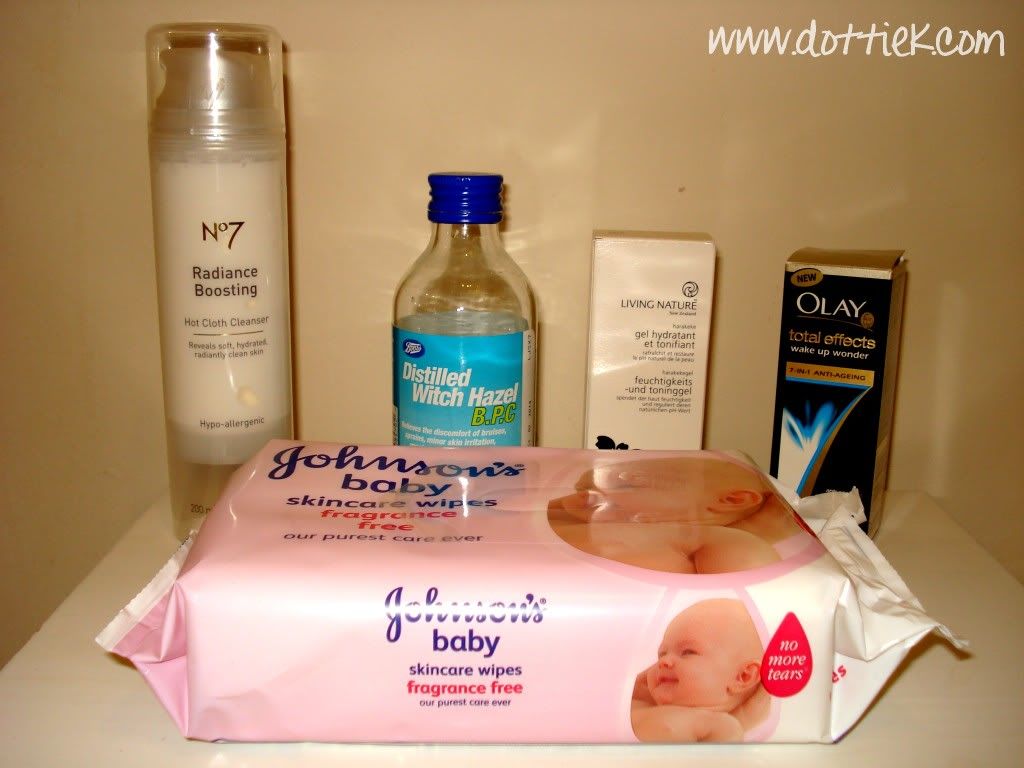 Previous to these I had been using Johnson's 3-in-1 make up removal wipes, but a few other bloggers had said they use these as a cheap and easy alternative. Considering these are cheaper than make up wipes and you get over double the amount in a pack, it's a no brainer really! When I saw a box of 6 packs for a mere £5 in Asda, I snapped these up. Obviously they're very gentle as they're meant for babies so I knew these would be great for my skin. I use them to remove my makeup at the end of the day. I have no issues with sensitivity around my eye area either.
No 7 Radiance Boosting Hot Cloth Cleanser
I think I'm probably the last person to discover this gem of a product but fear not, I have finally arrived at the party! I adore this product so so much! It's gentle on my skin, removes all final traces of makeup and I find it quite moisturising. I look forward to using this at the end of each day!


Boots Distilled Witch Hazel
Nicola
recommended using witch hazel as a toner on her blog a few months ago as a way to reduce blemishes and to help clear them up. At first I found it didn't work for me, yet as I've incorporated it more regularly into my routine I've found that it really does help. The smell is a bit overpowering if your nose gets too close, but it's something I'll live with.
Living Nature Hydrating Toning Gel
I've been using this as an alternative to witch hazel when my skin needs a bit more hydration - especially after I've exfoliated. It smells gorgeous and does exactly what it's supposed to.
Freederm (not pictured)

Silly, forgetful old me forgot I about this product, but I bought this at the beginning of the month to combat blemishes. And boy does it work! It really helps to reduce redness and get rid of said blemish quick smart.


Olay Total Effects Wake Up Wonder Moisturiser

I've had this for quite a while now, and I love it. It's the most gorgeous scented moisturiser I've ever come across. When I first got it I was using it in the mornings but I found it didn't really work using it then applying makeup. So now I use it at night as a final step in my skin care routine so it can work it's magic over night. I find that it sinks into my skin really easily and doesn't leave me sticky or greasy.
♥

I'd like to emphasise that what works for me, may not work for you. Everybody's skin is different and will react differently to different products so don't necessarily think "I must try these products" because you might be left out of pocked and disappointed. And we don't want that! My advice to you would be get into a set skincare routine and try it for at least a month to see if it works :)


Which products do you use in your skincare routine?