Morning :)
If you've read my recent Saturday Summary posts or
my skincare routine
post, you'll know that I've been really proud of keeping up with my new year skin care regime and that I've been loving No 7's Hot Cloth Cleanser. So today is review time!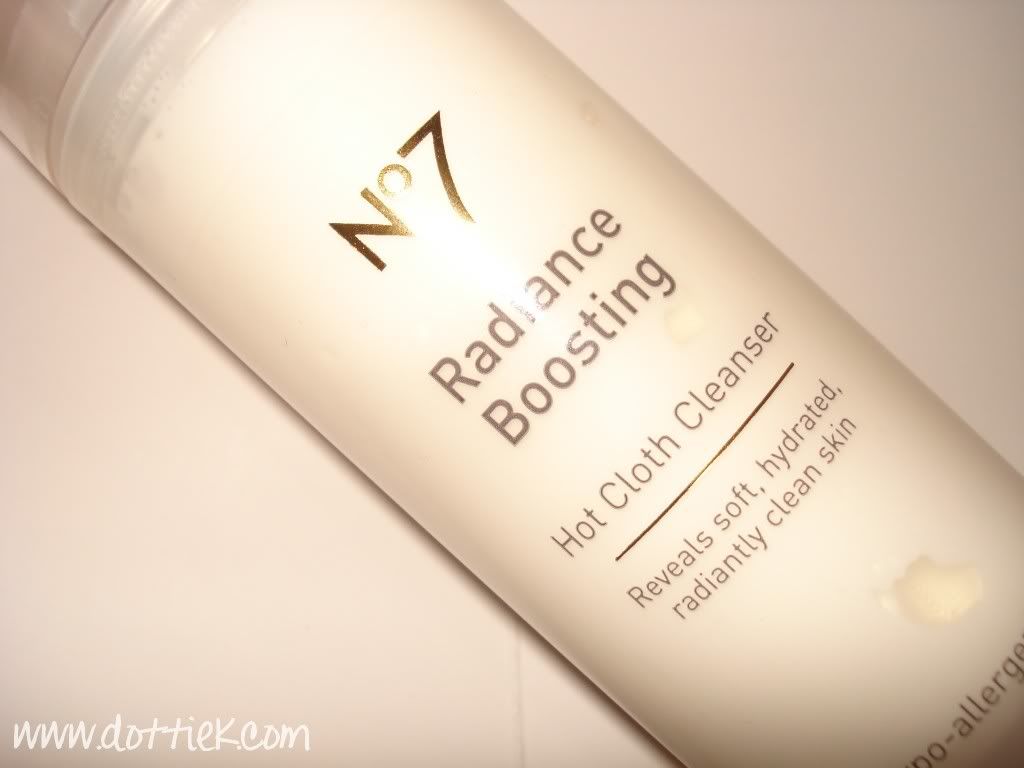 No 7 say
: Enjoy the luxury of a spa facial in the comfort of your own home with this dual action cleanser. The combination of this rich, indulgent cleanser and the gentle exfoliating muslin cloth, whisks away dead skin cells and daily grime whilst stimulating circulation, leaving your skin deeply clean, soft and radiant.
I say
: After I heard practically every blogger under the sun rave about hot cloth cleansers, and the No 7 product in particular, I had to snap it up when I last had a No 7 voucher a couple of months ago. Then a little bit later I won one in
Fee's
giveaway! I'm so glad I have a couple of bottles to last me as I absolutely love this! The cleanser smells lovely and it feels great on my skin. The muslin cloths help to cleanse and gently exfoliate, leaving my skin lovely, soft and make up free. It really helps to remove any final traces of makeup, especially foundation! I find the cleanser to be quite moisturising which is a great bonus. The Hot Cloth Cleanser is a hypo-allergenic product which is great if you have sensitive skin as this reduces the chances of having a reaction.
No 7 say
: Close your eyes, using your fingertips, gently massage over dry skin in upward circular motions. Run the muslin cloth under comfortably hot water, wring out the excess and place over your face and relax whilst the hot cloth gently opens your pores. Then using the cloth, lightly polish off the cleanser in circular motions, to remove any impurities. To finish, splash your face with cool water, to close your pores, and pat dry. Follow with your favourite No 7 moisturiser.
I say
: I really enjoy using this at the end of every day, it's become a proper little ritual! I find that the cleanser and cloth remove any lingering traces of makeup that my make up/baby wipes have missed. My skin is left feeling soft, hydrated and completely clean. I absolutely adore this and I'm so glad I have two bottles of it! That will keep me going for a while! I started using this on January 1st and I took the above photo on January 31st. Fear not, I haven't just taken a photo of the bottom of the bottle for no reason! I wanted to show you how much I've used in one month (31 days) which is about a third of a tube. Brilliant right? Considering the full price is £9.00, if I use a third of a tube a month (bearing in mind I use it once a day) that makes it £3 a month. Bargain right?! :D
Price: £9.00
Size: 200ml
Product: 10/10
Packaging: 10/10
Price: 9/10
Overall: 9/10
Repurchase: Definitely! After I've used both bottles ;)
Have you tried the No 7 Hot Cloth Cleanser? What do you think? And let me know which cleansers are your favourites :)