Hello possums :)
I picked up Extra Glow Cream at the Eyeko event a few weeks ago and have been using it pretty much every day since, so I think it's about time I gave it a review! This one's a bit photo heavy as I couldn't resist showing you the gorgeous packaging :D
Eyeko say
:
Eyeko Cream with Extra Glow is a multitasking highlighter with all the benefits of your favourite cult classic Eyeko Cream. This NEW dreamy pink cream is loaded with micro light reflecting pigments perfect for creating a soft focus sheen. Petrochemical free. Eyeko do not test on animals.
I say
: Having not tried the original Eyeko cream, I wasn't sure what to expect but I was keen to find out if it lived up to it's 3-in-1 claims of being a moisturiser, highlighter and eye cream. I found it to be extremely moisturising and I often mix a little bit with my foundation, which gives me a soft, dewy glow. I've also used it as a highlighter in all the usual places, which again gives me a soft glow. I also find it gentle enough to use around my eyes. Thumbs up Eyeko :D I love Eyeko packaging, and the Extra Glow cream is another cute fave. In terms of practicality there's an extra 'stopper' lid which stops your cream from going all over the lid of the actual tub, which is always good if you're taking it on your travels.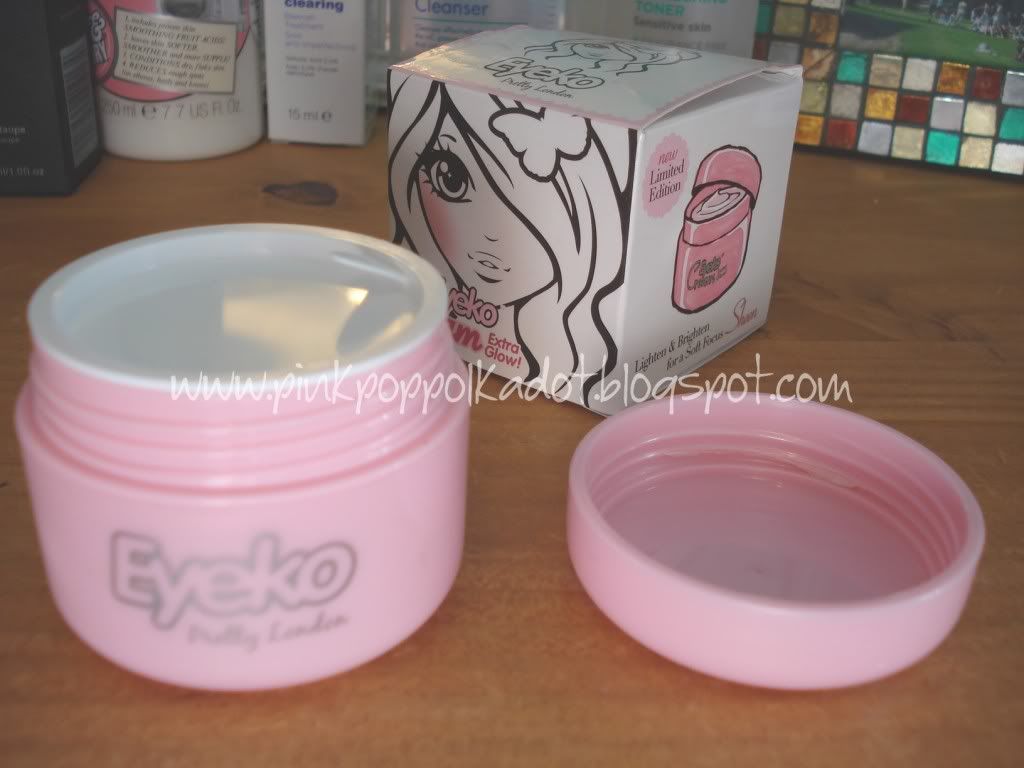 Eyeko say
:
Add a flattering highlights to brow and cheek bones, your cupids bow, even collar bones and shins for a touch of moonlit magic

.
I say
: I really love the finish that the Extra Glow cream gives. I find I do have to lightly powder over it to set and touch up towards the end of the day. A definite must have in any make up collection :)
Price: £8
Size: 28ml
Product: 10/10
Price: 10/10
Packaging: 10/10
Overall: 10/10
Repurchase: Yes
If you'd like to purchase you can head over to the Eyeko website. Remember you can use my Ambassador code,
E8493
, for a free gift!
Have you tried any of the Eyeko creams? I think I'll try the tinted one next summer!