Hiya :)
My Skin MD Natural giveaway ended at 23:59 GMT on 27th January 2010 and I have a winner!!!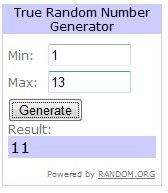 I had a total of 13 entries. I used random.org to generate the winning number, #11, and worked my way from the first comment down to the 11th.
And the winner is...
*DRUM ROLL PLEASE*
MAXIME!!!!!!!!!!!!!! Congratulations lovely!!

If you send me an email with your details, I'll pass them on to Cat at Skin MD Natural so she can ship your prize over to you!