Hello :)
In the spirit of Christmas, festivities and parties, I thought it was a good time to review these amazing glitter eye liners that you really need in your lives! They jazz up any look and are a fab purse friendly fave!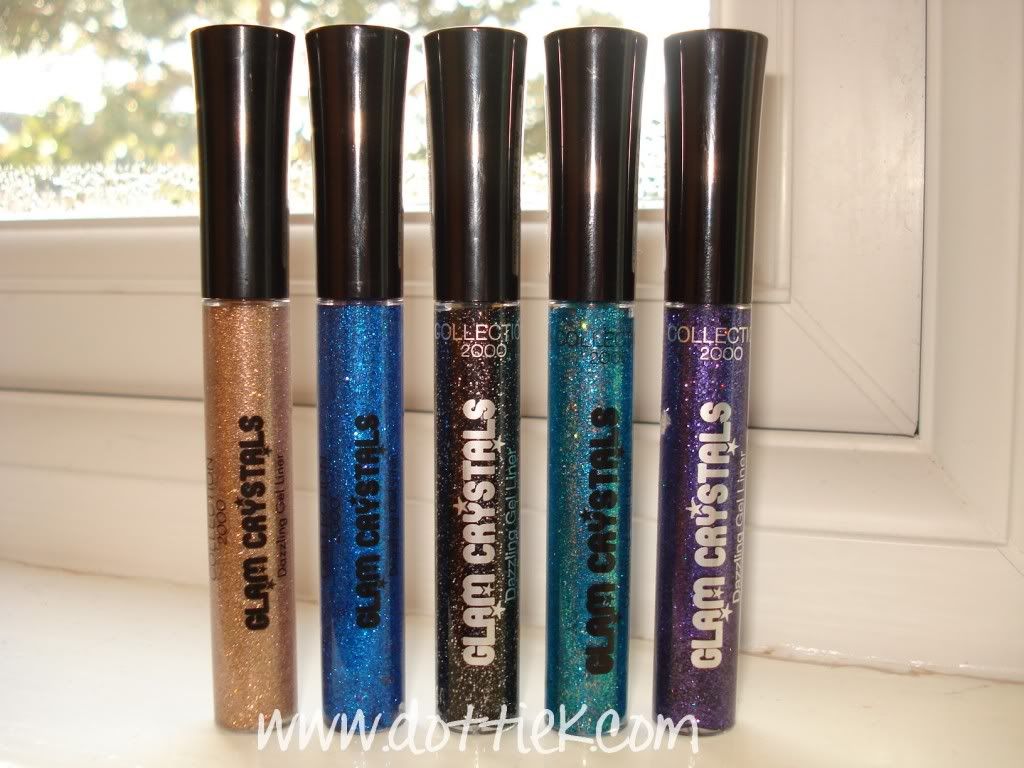 Collection 2000 say
: Collection 2000 Glam Crystals Gel Liners contain sparkling glitter particles which create a dazzling effect. The precision brush makes application easy and can be used over eye shadow or alone with mascara. Easy application and fast drying.
I say
: I really love these as they're a coloured gel plus a glitter so you're getting immediate colour. Unlike the Urban Decay gel liner I tried. But that's another story. The one thing I have found with these liners are that the brushes seem to differ colour to colour. Some are brilliant and thin which is great for creating super sleek lines, but some are a bit splayed and chunky. A minor niggle, but one worth mentioning. I find them fairly easy to apply and they take probably less than a minute to dry.
Top to bottom: Funk (gold), Night Fever (blue), Rock Chick (black), Pow (green/blue), Shake It Up (purple)
Collection 2000 say
:
Use as an eye liner or layer up over the eyelid and wear as eye shadow for all over sparkle.
I say
: I use these as an eyeliner as I think they'd take forever to dry all over the lid, plus I don't fancy looking like a giant glitter ball ;) As a liner though they're absolutely brilliant. Very sparkly with highly pigmented gel bases. They certainly brighten up any look!
Price: £2.99 - currently 3 for 2 in Boots and Superdrug
Size: 6ml
Available from: Boots and Superdrug
Product: 9/10
Price: 10/10
Packaging: 9/10
Overall: 9/10
Repurchase: Yes
I know I'm probably the last person to have discovered the amazingness that are the Glam Crystals liners, but these are definitely worth a try if you want to jazz up your festive look.
Are there any other shades I need in my life? What are your thoughts on these glitzy gems?