Morning :)
A while ago I was asked on Twitter if I'd tried the new Maybelline foundation. I hadn't but then
MissDollyGal
said she had tried it and really liked it. So I embarked on a mission to try it.
Maybelline say
:
Our Micro-Flex formula stretches and flexes with your skin. Stays looking flawless
beyond any stretch of the imagination. It resists heat, humidity, sweat, transfer, touch, LIFE!
Feels light all day. It's the do-it-all through-it-all-24-hour makeup.
Oil-free, dermatologist tested, fragrance-free. Suitable for all skin types. Contains SPF19.
I say
: I was intrigued to see whether the foundation lived up to the claims of flexibility and 24 hour wear. I'm happy to say that the flexibility claims are completely true and my foundation still looked pretty good at the end of the day - it hadn't slid/caked/faded like other foundation can do. I would agree with it being heat, humidity, and sweat resistant. I don't quite agree with it being transfer or touch resistant though, as I found that I still ended up a little bit shiny towards the latter end of the day (regardless of whether or not I used a primer) and if I were to touch my face, I'm left with transfer. In my opinion, this foundation is a really good buy, but it does need setting with a powder after initial application, and also requires touching up with a light dusting of powder towards the end of the evening which you might want to take into account if you're going to be going out.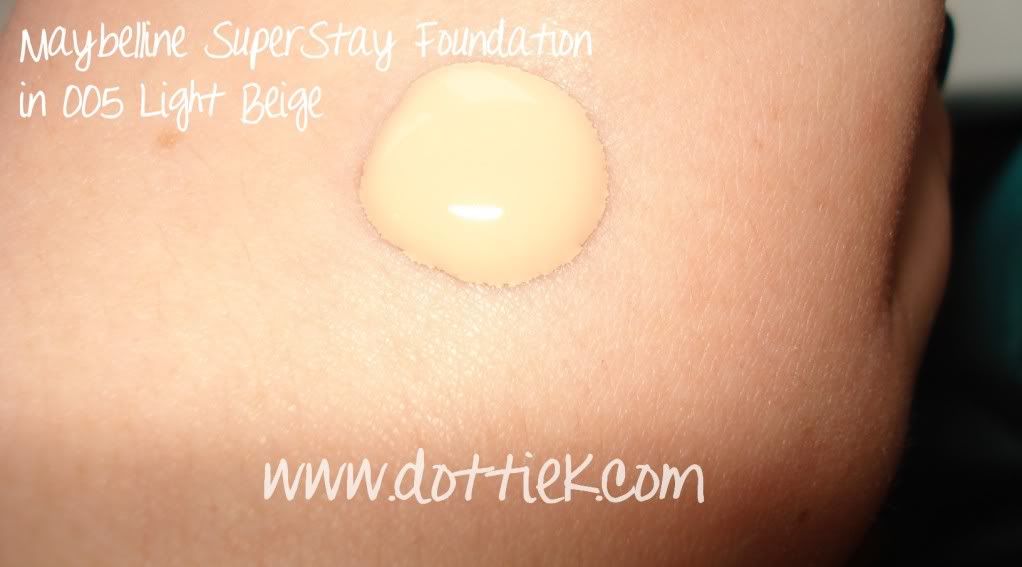 Maybelline say
: Shake well before use.
Apply smoothly and evenly to your face and blend with your fingertips
.
I say
: I apply this with my e.l.f. Studio Powder Brush all over my face and neck, and then blend with my fingers around my eyes. It applies really well and fairly quickly. You have to work quick though or it tends to start setting. I let it sit on my skin for a few minutes before I lightly powder to set it. I'd say the coverage was medium. It evens out my skin tone, does a good job of covering my dark circles and any blemishes, but I do need to use concealer under my eyes and on some blemishes. Overall, my skin is left looking lovely and flawless. As mentioned above, I find that I do need to touch up with powder, particularly on my T-zone, towards the evening, but I find this with all foundations. I have found that it lasts a little better if it's set with MAC Fix+ at the end of my make up routine. I'm not 100% convinced that this foundation would last 24 hours. Maybe one day I'll try it and see ;P I think that this is perhaps my favourite foundation that I've tried this year.
Price: £8.99 (although I later found it for £7 in Asda *grumble*) Currently 3 for 2 in Boots & Superdrug
Size: 30ml
Available from: Boots, Superdrug, Asda
Product: 8/10
Price: 10/10
Packaging: 10/10
Overall: 9/10
Repurchase: Yes
Have you tried this foundation? Which foundation are you currently using?