Morning :)
I think, I may have found my perfect red lippie. It's not too bright, it's not in your face in a "Omg she's wearing red lipstick" kind of way. It's understated. It's classic. It's kind of retro. I like it!
Product
e.l.f. say
:
Now you can hydrate your lips and get a lasting soft
colour
naturally! This nourishing blend of exotic oils, natural waxes, vitamins and plant extracts create the perfect
moisturising
formula. The sleek lipstick has superior color payoff, glides easily onto lips, and is long wearing. Lips stay perfectly hydrated and soft throughout the day for no fuss, lip loving happiness. All our mineral makeup is 100% mineral based with no parabens, no preservatives and no chemical dyes.
I say
: I think at some point, I will end up trying every single lipstick in the Mineral line. I absolutely love the ones I've tried so far, and I really cannot fault them. The pigmentation is fabulous, what you see is indeed what you get. They glide on the lips, are moisturising, and last for quite a while. I only have to touch up after eating. Overall, a bargain for the price.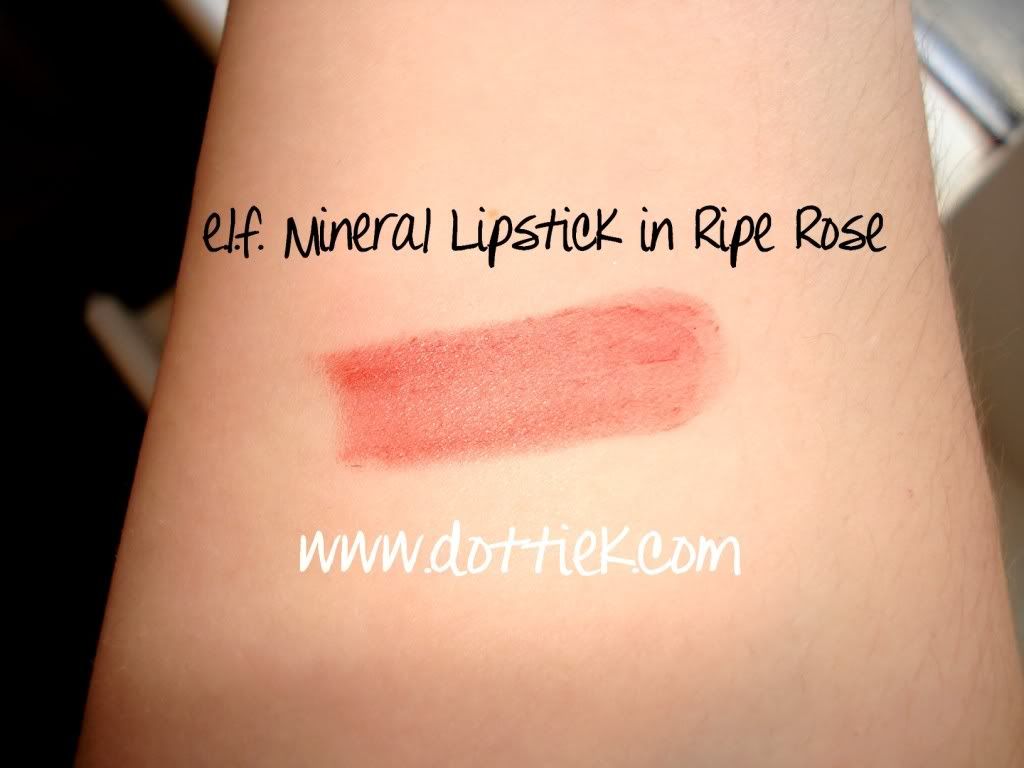 e.l.f. say
:
Apply to lips and blend in
colour
for lip hydration. Re-apply as often as desired.
I say
: I apply this straight from the bullet and then clean up with concealer afterwards if necessary. The mineral lipsticks feel lovely when they're applied, and you get such a great colour pay off. I've found I on;y have to touch up after eating. Ripe Rose shows up as pink on the e.l.f. website. This is most definitely not the case. I Googled before I bought so I knew what I was getting. I know lipsticks vary person to person due to lip pigmentation, but it comes up as a kind of dirty red on my lips. I love to wear this with a neutral eye and some black liner for a classic look. I'll have to do an FOTD for you soon!
Price: £3.50
Size: 3.8g
Product: 10/10
Price: 10/10
Packaging: 10/10
Overall: 10/10
Repurchase: Yes
Have you tried Ripe Rose? What's your favourite red lipstick?