Hello snowballs :)
I received this from the lovely
Ashlie
when I won one of her giveaways recently. I'm a bit of a newbie when it comes to Urban Decay, so it was nice to have the chance to try another of their products.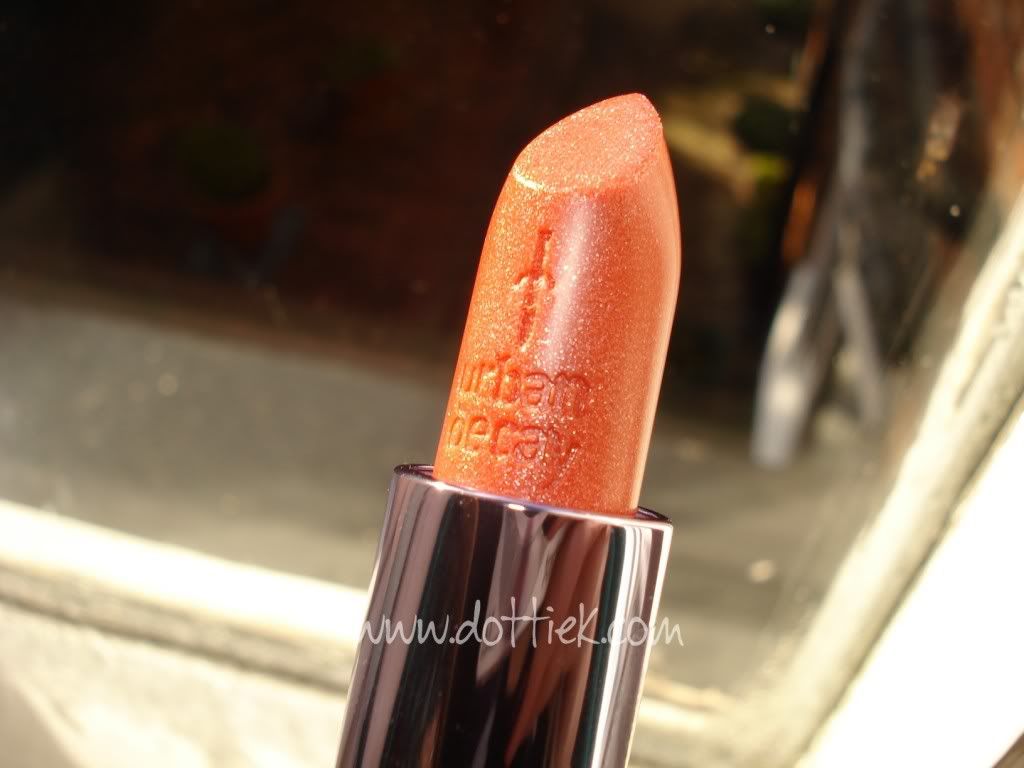 Urban Decay say
:
Leaving no shade unturned, our huge assortment of
colours
and textures tempt you to stray from an otherwise predicable palette. The luxuriously creamy formula nourishes and protects lips with Vitamins A, C, and E. Hyaluronic Spheres (found naturally in the body) are added to stimulate cellular function, prevent dehydration, and fill-in lines and wrinkles-now, how many Lipsticks can do that?!
I say
: Well they certainly got the iconic part right didn't they? I've never seen a lipstick packaged in such a distinctive way. Interesting, but I find the sword handle a little odd. Moving on from the packaging, Indecent is a pale peach shade which is absolutely gorgeous. I found it to be a lovely and creamy and quite a sheer, but buildable shade. According to the Boots website, Urban Decay lipsticks are also Paraben free :)
Urban Decay say
:
Urban Decay Iconic Lipstick has a creamy high tech formula which will glide on, nourish and protect lips with antioxidant-rich vitamin A, C and E.The teardrop-shape bullet (etched with an Urban Decay logo) is infused with a decadent crème caramel scent and flavour. Yum.
I say
: One thing I will pick at here, is that when they said creamy, I wasn't bargaining on the shimmer I saw in the bullet to be actual glitter. And unfortunately you can feel this on the lips. But that's nothing that a clear gloss can't fix ;) Overall I found the lipstick to be creamy and non-drying. I love the shape of the bullet, it's brilliant for precise application. Indecent is a a pretty nudey peach colour which I really really like. Oh and the scent. Wow. I thought MAC had it nailed with their lipsticks, but I have to say Urban Decay has picked a good one!
Price: RRP £12.50
Size: 3.7g
Product: 9/10
Price: 8/10
Packaging: 7/10
Overall: 8/10
Repurchase: Yes, I'm eager to try their other colours :)
Have you tried Urban Decay lipsticks? What are your favourites? Do you have any shades to recommend?